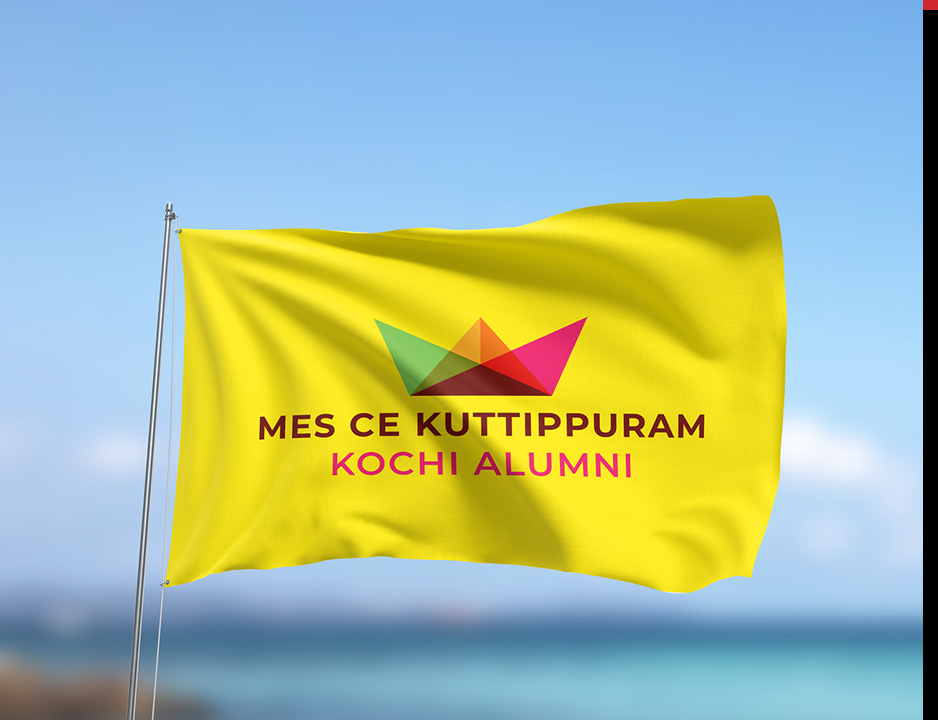 I'm an alumnus of MES College of Engineering, Kuttippuram and a discussion started in our alumni WhatsApp group about planning a reunion event soon. Just for fun, I named the reunion 'nostu' (a commonly used truncation of the word 'nostalgia') and designed the logotype. Then I volunteered to design a teaser poster about the event and it got circulated in college themed social media groups. Contrary to my expectations, people loved it! Then I got a phone call from a dear friend and classmate…
"Why don't you design a logo for the Kochi Chapter?"
My friend Zuhair narrated the experience of organizing the UAE alumni reunion a couple of years ago. To distinguish between the official Alumni Association and the informal Kochi Alumni Chapter, he suggested to design a logo and use it in posters. UAE Chapter had their own logo for their program and it is lovely!
I could see an 'm' (for MES College of Engineering) and also a group of people with their hands joined.
The core organizing committee of Kochi Alumni also shared the same opinion that we also should have our own logo. That's when I started the work on this design.
Logo for MES CE Kochi Alumni Chapter
I managed to come up with a good concept within a day and made subsequent revisions in three days to arrive at the present logo design.
Montserrat font, with different weights, is used for the logotype.
Logo Animation
The logo logic is represented in the following logo reveal animation.
Inspiration and Logo Logic
Multi-colored spotlights are at the heart of the design to form an uppercase 'M' for MES College of Engineering.
The enveloping shape also takes the form of a paper boat. Who hasn't played with those? Nostalgia right there… Our college is very near to the River Nila. Kochi, famous for its backwaters, is subtly represented by the boat as well.
I think the selected color swatches work well with different background luminosity. The colors are inspired from those used in the UAE Alumni Chapter logo.
Monochrome versions are also legible in different backgrounds.
We are using this logo in all Alumni reunion related communications. I'm eagerly waiting to see the printed versions of the logo on banners and posters at the venue of the event.
I will update this post with photos of the logo from the venue as soon as the event gets over.
Free image resources used in this post
UPDATE 13-AUG-2022
On 13th August 2022 Saturday, the first ever 'nostu' Alumni Reunion was conducted at Crowne Plaza Kochi. The 'MES CE Kuttippuram: Kochi Alumni Chapter' logo has come out well on the venue and many people appreciated me for the designs.