Our life is slowly returning to pre-pandemic times. People have started returning to offices, schools have opened, 'revenge travels' are trending and… school/college alumni reunions are happening now! An unplanned meeting of four friends — all alumni of MES College of Engineering, Kuttippuram — kickstarted a chatter in our WhatsApp group about planning a reunion in the beautiful city of Kochi.
As usual, in the pretext of 'motivating' others, I quickly came up with 'nostu' (a commonly used truncation of the word 'nostalgia') and designed a teaser poster. I thought that it is a 'not-so-good-name!' Then I broadcasted the teaser poster in our WhatsApp alumni group.
nostu — A Brand is Born!
I expected someone to come with a better name than 'nostu.' Contrary to my expectations, people loved it! I started designing posters one after the other as part of the event marketing campaign. And 'nostu' became a household name among MES CE Alumni with a good fan following.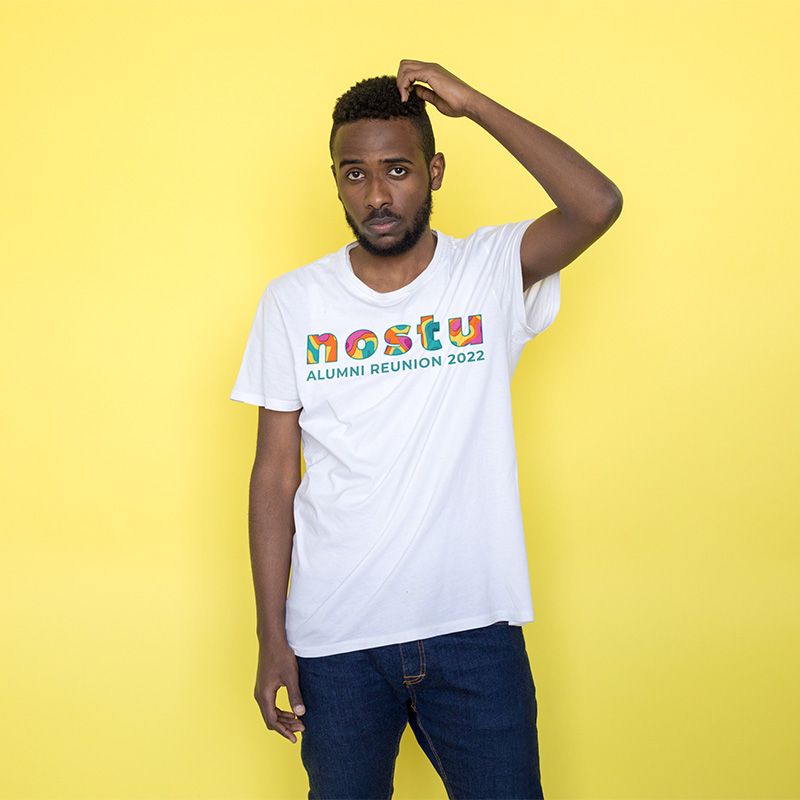 I designed and hosted the 'nostu' website as a subdomain of a URL I already own — https://nostu.nirakut.com. It served as a place where people can come and register for the event. Our alumni reunion event of 13th August 2022 was a tremendous success — thanks to the amazing team who worked tirelessly behind the scenes.
After the event, 'nostu' got its own domain name and web hosting. I designed a new website with a WordPress CMS and launched it as www.nostu.in. Now, many things are being planned under the banner of 'nostu' for the benefit of our society. I'm very happy to be a part of this 'nostu' movement and I'm still wondering how something that started so humbly, took off spectacularly with a life of its own, spreading its wings and going places…
nostu — Designing the Logotype
'Nostalgia' is generally associated with a sepia tone. I clearly remember the title designs of two popular Malayalam films during my college days — Pranayavarnangal (1998) and Niram (1999). Both of them had their titles splashed with rainbow colors. I wanted to recreate that colorful approach to 'nostu.'
While searching for a similar text effect, I stumbled on to a cut paper effect at FreePik.com (font PSD created by Vectonauta). Immediately I created the following image by writing 'nostu' using Montserrat typeface.
This logo started appearing in all teaser posters and other marketing collaterals of the event. Silently, the logo underwent a few transformations as well and it became the current version that you see everywhere.
nostu — Logotype Evolution
The color patterns were raster graphics in the first version because I never thought that this logo will survive! Later, I changed the color patterns to vector format so that the printing of banners, stage backdrop… won't suffer from pixilation while scaling up the logo.
Another main change was the dropping of the exclamation mark (!). This simplified the visual complexity of the logotype.
Later, to improve the contrast and readability of the logo on any background color, a stroke of turquoise color is added as the outline. The following is the current version 4.0 that is used in the 'www.nostu.in' website and social media.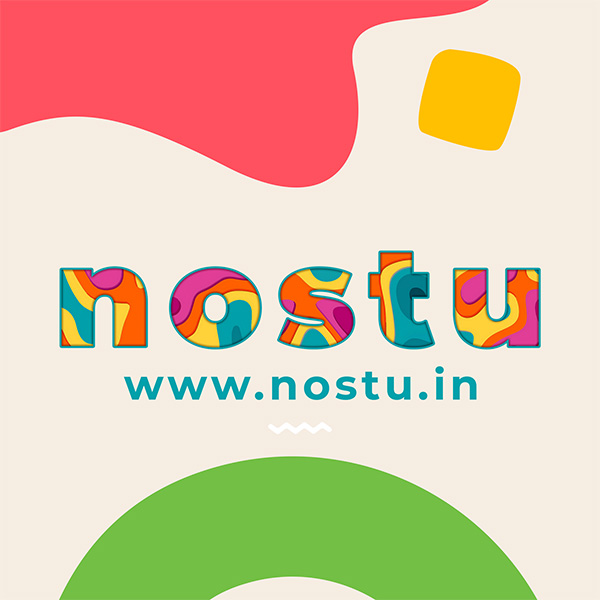 nostu Slogan
Initially there was a bigger plan to make the quote "The mists of nostalgia color memory!" a ubiquitous slogan for the nostu event. Since the posters didn't have much real estate to accommodate this lengthy slogan, it appeared only in a few places like the website banner.
The typeface used in the above slogan image is Noelan. It has an ornamental script appearance, perfect for nostalgia.
nostu 2022 Logo Animation
A 30 second video for nostu 2022 was created in Microsoft PowerPoint so that our friends can put up WhatsApp status on the day of the event. This video was an instant hit and it really helped in brand building. The video starts with the logic behind the Kochi Alumni Chapter logo — light from three spotlights merging into a paper boat, outlining an abstract 'M.' Then the colorful logo of nostu is introduced along with an upbeat music.
I'm looking forward to the next adventure of 'nostu!'
Free image resources used in this post
UPDATE 13-AUG-2022
On 13th August 2022 Saturday, the first ever 'nostu' Alumni Reunion was conducted at Crowne Plaza Kochi. The 'nostu' logo has come out well on the venue and many people appreciated me for the designs.