Rathika Ramaswamy is a seasoned wild life photographer who has garnered the love and affection of the entire nation. She is the first woman wildlife photographer our country has produced.
Here we are in conversation with the photog herself who shares her knowledge and wisdom from her nine years of photographing career.
---
Q. How and when did your fascination for wildlife start?
A. Photography has been a passion from the time I was in school. A few years back, I visited Bharatpur bird sanctuary for the first time . I was watching all the birds and I really wanted to capture their images so that I could enjoy revisiting them. Soon after that, I bought a big lens for wildlife photography. Since then, there is no looking back.


Q. According to you, what are the challenges in photographing birds?
A. Without doubt, bird photography is one of the challenging genres of photography.
You need to have good field knowledge on different species of birds, great photography skills and lots of patience.
It is not an easy task to photograph tiny birds close enough so as to fill the viewfinder. To keep a comfortable distance from the subject, you need a minimum 500 mm tele-zoom lens. The canopy in Indian forests and National parks does not give good lighting and it makes it difficult to get good shots of birds. The activity of spotting a bird on its natural perch, focusing on its eye and getting a good depth of field… is an art in itself.
Q. What kind of gear do you use?
A.
Body – Nikon D3 12.1MP FX DSLR and Nikon D2x 12.4MP DSLR Dx
Lens – Nikkor AF-S VR 600mm f/4G ED Plus , Nikkor AF-S VR 70-200mm f/2.8G IF-ED, Nikkor AF VR 80-400mm f/4.5- 5.6D, Nikkor AF-S Nikkor 300mm f/4D ED, Nikkor AF-S DX 17-55mm f/2.8G IF-ED, Nikkor 50mm f/1.8D
Tele converter – Nikon TC-14E II ,Nikon TC-17E II . ED
Filters – Hoya CPL Filter
Tripod – Gitzo GT-5540LS ,Wimberley Head II ,Menfrotto 190DB & 141RC Head
Flash – Nikon SB-800 AF Speedlight
Bag – Think Tank Photo's Airport Security V 2.0 Rolling Camera Bag , Suitcase for Tripod, Backpack for accessories like charger, rain and dust cover. Camouflage hide and beanbag.
Light meter – Sekonic L-308S
Q. Which is your favourite lens?
A. For bird photography, my favourite lens is Nikkor AF-S VR 600mm f/4G ED, combined with 1.4 tele-converter. It gives me 850mm focal length, and it helps me to shoot birds from a distance without disturbing them.
I love Nikkor AF-S VR 70-200mm f/2.8G IF-ED too. It helps me to capture habitat shots. I always carry both these lenses with me for wildlife photography.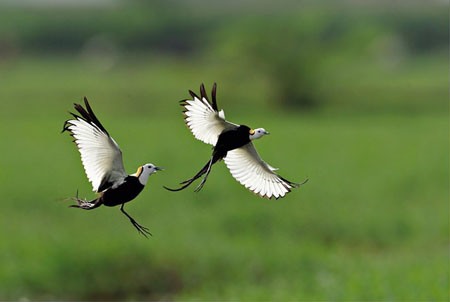 Q. Among the gadgets that you own, is there anything that you regret buying?
A. I haven't regretted buying anything. I have found all lenses and accessories useful.
Q. In the field, what are your settings.
A. There is no fixed setting. Each shot is different as the lighting condition changes every second.
ISO – On a normal sunny day, it will be ISO 200-400 as I am looking for action. If I am inside a forest, then I shoot at ISO 800 to ISO 3000.
Aperture – My favourite is f/7.1. Again, it depends on the situation. If it is a misty morning with less light, I prefer to shoot wide open at f/4 or f/5.6. If the subject is friendly and I get more time to shoot, then I try different apertures to get the best depth of field.
Shutter Speed – If it is a still subject, then I go for around 1/200 of a second. If the bird is in flight, it will be between 1/600 and 1/2000
Shooting Mode – I shoot birds mostly in early morning or in winter season, when there is not enough light. I then shoot with manual exposure. If the sky is clear and the light is good, I shoot with Aperture Priority.
White Balance – I set it manually.


Q. When you go for a shoot, what all do you carry?
A. I carry my two cameras and 600mm, 70-200mm, 300mm and 17-55mm lenses , tripod, beanbag, extra CF cards, camera cleaning kit, laptop, ipad, rain cover, water, sun block and basic medicine.
Research and planning are very important before going for any shoot. One should know the best season to shoot different animals/birds and the best place for shooting them. If it is a new place, I start planning two to three months earlier. I will find out the best season to visit, get a list of the birds that are likely to be there and book a knowledgeable local guide/naturalist. In some places, you have to get permission to shoot. If I have to photograph from a vehicle, then I try to get a driver who knows when and where to stop. The first day is all about knowing the place and finding the best vantage point to shoot.
Q. How do you approach your subjects?
A. Once I spot a bird, I wait patiently. No loud sounds or quick moves. Once the bird gets used to your presence, it is easy to shoot. I first click a shot, then move a little closer and take a second shot.
For birds, no movement means invisibility.
If I feel that the bird is not comfortable (i.e. looking at you or showing signs of an imminent flight), I stop and wait till it gets used to me. In case of water birds, I find a hiding place and sit there. The birds will come closer to you. At sanctuaries, birds are usually used to human presence, making it is easier to approach them.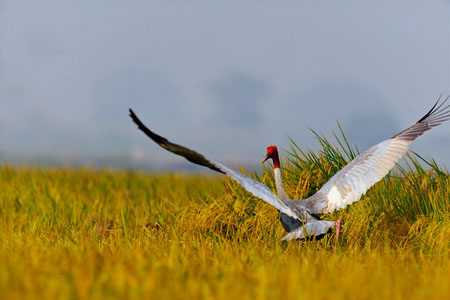 Q. How do you post process your shots?
A. I do minimal post processing. I convert raw files to TIFF, adjust basic contrast and levels, boost saturation, do some colour correction and sharpening. That is all I do.
I try to get spot on exposure in the field itself, so that I can spend less time on post processing. I use Nikon capture and Photoshop CS5 for processing my pictures.
Q. How do you educate yourself to take better shots?
A. For me, each photography trip is a learning experience. I think it will be a life long process and I will keep evolving. I educate myself by spending more time in the field, watching the birds and understanding how they behave.
Knowing your subject should be our second nature for photographing the way we want. I read a lot about birds and their behavioural patterns, nesting and food habits. In the field, I always try different settings and different compositions. When I get time, I follow photography forums like dpreview, nikoncafe and wildlife forums like birdguides, indianaturewatch, Delhi bird group and Indian birds group on Facebook.


Q. Whose work has influenced you?
A. I prefer to capture birds in a behavioural mode, always looking for a story in the shot. I am influenced by Arthur Morris' photography. I like his style. His photographs are not just documentation of birds as he captures fine action shots of birds with a great aesthetic composition. I follow Moose Peterson and John Shaw for their nature and wildlife photography.
Q. Among your clicks, which is your favourite?
A. I have many of them. One of my favourite photographs is that of Spotted Owlet (Athene brama) pair taken at Sultanpur in Haryana. Spotted owlets are nocturnal birds like owls, but smaller in size. That was the first time I saw them preening and snuggling. It was very special to watch them and photograph.


Q. What is the one thing that you wish you knew when you started photographing birds?
A. I only wish that I had started bird photograph much earlier.
---
Our favorite Rathika Shot