Dave Tickell has been doing macro photography for the last two years. His macros are characterized by minimalism. And most of them resemble a painting. Here we are in conversation with the photog to understand more about his work and style.
---
Q. Your macros are a celebration of colors. What influenced you to take up macro photography?
A. Macro Photography is a place where I can forget about everything else and focus on things in nature we normally take for granted. Or we don't even notice. A tiny world of magic which I'm allowed to visit and enjoy.
Q. What are you trying to convey through your macro pictures?
A. I'm not to sure if my images convey anything, Maybe your readers will tell us what they think about my images.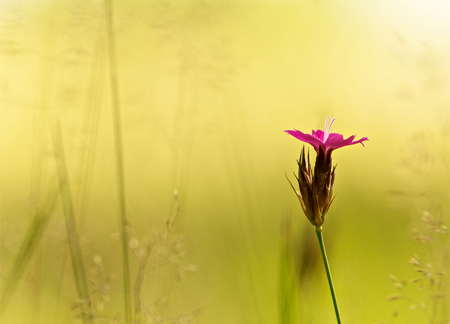 Q. How do you go around looking for subjects? Are your images pre-arranged or mostly by chance?
A. I find my subjects purely by chance, wandering through local fields, meadows and parks. Absolutely nothing is prearranged.
Q. Do you have any preferred time to shoot macro?
A. In my opinion early morning or late afternoon is the best time to shoot macro. The sunlight at these times is simply more attractive.
Q. Most of the people I have seen take macros in an indoor, controlled environment. But your approach is completely different. Rather than an insane close-up of the insect, you seem to be able to bring out the character in nature through its subjects. Can you explain your setup while taking a macro?
A. Most people think macro photography has to be a frame filled of a small subject, technically speaking that is correct. I tend to like to put more distance between myself and the subject, So i don't ignore the setting or the the background. I'm trying to embellish both to be as one with the subject itself.


Q. What kind of gear do you use?
Body – Nikon D90
Lens – Nikon Micro Nikkor 200mm f/4 – Tamron SP 90mm f/2.5 – Helios 44-3 MC 58mm f/2
Tripod – Manfrotto 055XPROB
Novoflex focusing rail, Cable release,
Q. Which is your favorite lens?
A. I enjoy using all of my lenses, so choosing a favorite is pretty hard. I'd say my 200mm is my favorite. It's very sharp at almost all apertures. It produces wonderful bokeh and it gives me more working distance between subjects which makes life easier when photographing insects.
Q. In the field, what are your settings?
Aperture – anything between f/2 and f/16
ISO – 200
Focus – Manual
Image Format – RAW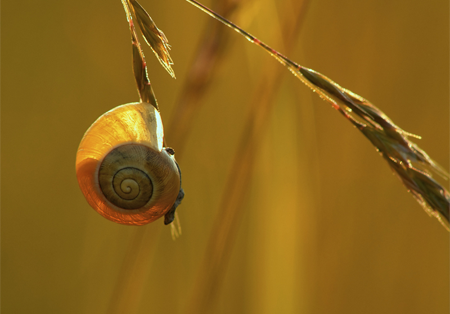 Q. What kind of tools do you use for post processing?
A. I use Aperture for importing and organizing the images. My post work is also done with Aperture together with various NIK Plugins.
Q. Among your works, which one is your favorite?


A. Thats a pretty hard question to answer, I don't think i have all time favourite, its more of a favourite of the moment and would be the image "Having A Drop" The image came about by pure chance, but turned out pretty good.
Q. Whose work has influenced you most?
A. Michael Kenna. I like how he creates a extremely powerful atmosphere with a touch of melodrama in his images.
Q. Is there anything that you realized about macro photography after two years in to it?
A. A Macro photographer has to have, dedication, patience and fantasy.
Q. What is the one thing you wish you knew when you started taking macros?
A. That auto-focus isn't as good as they say it is!


Q. To an aspiring newbie macro photographer, what would you like to say?
A.
Stop looking and start seeing.
---
Our Favorite Dave Shot