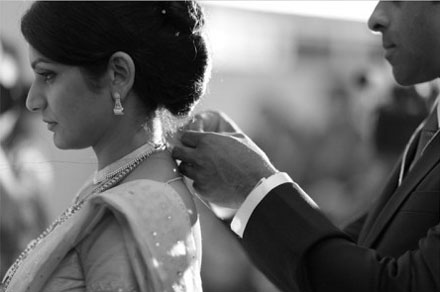 Bold, beautiful and candid. Those terms define the works of the Bangalore based wedding photographer, Phalgun P.
What hooked my attention to the pictures were the warmth and the love that his photos conveyed. Such effort is unseen in the Indian wedding scenario. This prompted me to reach out to him to have a chit chat about his style and passion.
A lover of candid expressions, Phalgun allows his clients to choose the pictures that decorate his studio walls at CuspConcepts.

---
Q. What is your approach towards wedding photography?
A. My approach to wedding photography at CuspConcepts is to go incognito and capture everything in a candid manner.
Every wedding is unique and we try to capture that wedding's personality.
So we always need to be super-attentive. We try and avoid repeat shots. Every wedding is an opportunity to discover something new, especially since we started only recently with CuspConcepts. Generally we don't experiment on the field. Simply because we can't afford to take a risk of missing an important moment. Instead, we experiment in the studio.
This is what makes wedding photography challenging — you don't have the luxury of retakes. We follow 'Do it Right the First time' principle. If once you have a bad picture, you have a bad picture. Nothing can correct it.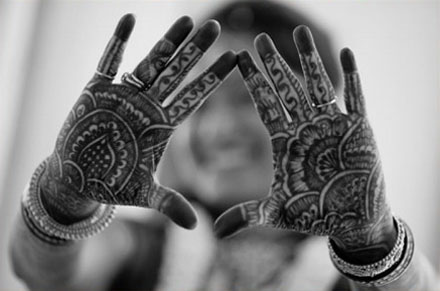 Q. In India, wedding photography follows a definite pattern. But at CuspConcepts, you tend to stay away from that, consciously. How difficult is it to be different?
A. It's a different generation. It's "Our" generation. Our generation wants pictures that capture the essence of the wedding in a candid manner. We capture good memories, capture scenes which the couple would've missed to notice during their wedding and we try to be creative while at it. That's the simple objective at CuspConcepts. It automatically differentiates us from the hundreds of traditional photographers who go by the rule book. Here, the couple plays a major role. Because as a photographer we just capture what happens in front of our eyes 'as is.' So it's the couple who makes us different by being open and by not following the traditional style.
Anybody can buy fancy equipment but having a unique style is the key.
Q. What kind of gear do you use?
A.
Camera: Canon 5D MKII, 7D and an Olympus E520
Lens: Canon 50mm F1.4, 135mm F2L, 24-105mm F4L; Olympus Zuiko 14-42mm F3.5-5.6, 40-150mm F3.5-4.5
Tripod: Manfrotto with Ball head and Video head
Flash: Canon 580EXII
Strobes: Elinchrom FX200Ri
Remote Radio Flash trigger: Cowboy Studio's Remote Flash trigger
Filters: None
Q. What's your favorite lens during a wedding?
A. Wedding photography is all about story telling. So my favorite lens is the wide-angle lens — 24-105mm F4L on Canon 5D MKII. It's also an all purpose lens for me. This has a very low barrel distortion; at the same time I can capture a lot in a frame.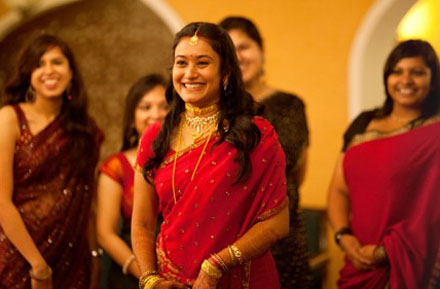 Q. I have seen conflicting comments regarding the following lenses – 85mm f/1.8, 50mm f/1.4 and a 70-200mm f/2.8. Some say 85mm f/1.8 is better than 50mm f/1.4 and a 70-200mm f/2.8 is an all purpose lens. What is your take on this?
A. In 'Optics' it's very simple — lesser the glass, more the amount of light that travels through. There is a loss in the intensity of light because of refraction every time it passes through a layer of glass. Hence, I swear by primes.
Prime lens is always the best.
In my experience, both 85mm F1.8 and 50mm F1.4 (on a full frame like Canon 5D MKII) have absolutely no noticeable difference in image quality. Typically we shoot at F2-F4 because the lenses are the sharpest in that range. But it's all about convenience. The advantage of shooting with a 50mm F1.4 is that you can work very close to the subject and use your feet to frame — zoom in and zoom out on the subject. With the 85mm you need to go at least 5-6ft back and then shoot.
Honestly, 70-200mm is for lazy people. You get great pictures if you are involved in the whole process, and if you need to be involved in the wedding then use a prime lens!
Q. What lens would you recommend for someone starting in wedding photography?
A. Actually, a 50mm lens is an all purpose lens for me. I'm sure a lot of photographers would agree. They call it the 'nifty fifty' for a reason. If you put a 50mm on a camera body which has a 'crop sensor' (ex. Canon 550D/60D), the 50mm is actually 50mm x 1.6times = 80mm. So your angle of view reduces. What I would suggest is a 35mm F2 lens on a crop body. The 50mm is very popular because it replicates the proportions that you see in reality. In short – WYSIWYG (What You See Is What You Get).
Q. Any gadget that you wish you shouldn't have bought?
A. There is one lens attachment I bought in Singapore which divides my focal length by 2. Basically, if attached to my 24-105mm lens, it would give me 12-52.5mm. I still haven't had an opportunity to use it. Not exactly a gadget, but still it does fall under the category of unused-equipment.
Q. What all do you carry while on an assignment?
A. For the assignment, we generally take the equipment which is just right for that specific assignment; we are not the kind who changes our lenses frequently during an assignment. But the most important thing that we take is the checklist of shots that have to be taken; which are typically common for any wedding.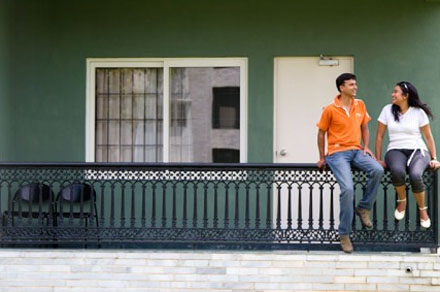 Q. How do you prepare yourself for a wedding session besides getting your equipment together?
A. From a preparation perspective, there is a simple formula in wedding photography.
Higher the comfort level – better the pictures.
We first have a casual one-on-one meeting with the clients to know more about their requirements in detail, to create a mental list of angles that suits the client and to build a rapport. This bumps up the trust and the comfort level.
It follows an 80:20 rule; 80% soft skills: 20% photography skills.
Hence, before a wedding, there is very little preparation. But during the wedding we need to be prepared for anything. Because anything can happen at anytime. You cannot miss a shot. You won't get that shot again, because there are no retakes. That's where we need maximum amount of preparedness.
Q. In the field, what is your (a) ISO (b) choice of focus – Autofocus / Manual focus (c) White Balance.
A. On the field, I follow a simple rule.
I want maximum amount of light to get inside the camera.
I should be able to control the amount of light.
I should have a control on the 'depth of field'.
So, I use
Aperture priority always set at the widest aperture.
Auto focus with Image Stabilization if available.
Auto ISO
Auto White Balance
Natural color setting
The most important setting according to me is to shoot in RAW.
RAW files have 16bit color depth and no digital corrections. Thus we have a lot more flexibility during post-processing.
Q. In your site I found that Guerrilla Portraiture technique is a specialty of yours. Can you explain what it is?
A. Guerrilla Portraiture is a portraiture taken anywhere, anytime. We can take professional portraits anywhere using strobe lights even if there is no power supply. A typical scenario is a casual outdoor shoot at a grassland where there is no access to a plug-point; but you need that extra directional fill light for shooting. So we have wireless strobe lighting setup which can be easily carried anywhere. It allows us to break the traditional/conventional way of portraiture which involves loads and loads of equipment and may typically require the client to go to a studio rather than in his preferred location.


Q. What is your most favorite part of a wedding? Don't tell me it's the food!
A. My most favorite part of a wedding is when the bride meets the groom for the first time on the wedding day. They'll be so thrilled to see each other in the wedding attire which until then they had only imagined how it would be. And also, the groom has a lot more rituals to do before he gets to see the bride, so this moment is generally filled with anxious emotions followed by happiness.


Q. And the worst?
A. I cannot think of a worst part in a wedding. But there are times when there is another photographer who is very traditional. He comes with his crazy bright lights which blow out the highlights on the faces and kill the color tones. Working around this situation is a pain; it involves a lot of post-processing to correct the tones.
Q. Explain your post-processing work flow.
A. Following are the tasks we make it mandatory to do after every wedding.
Copy all the pictures to the PC and make a backup copy.
Shortlist the pictures using Adobe Bridge.
From this shortlist, select the ones that would be used on our blog. (This is the fun part.)
From a post-processing perspective, we might do the following on our images — we like to keep our image as natural as possible.

Adjust the white balance — make images warmer or cooler depending on the need.
May be play with the curves/histogram to pull out details in the shadow area or to lighten the highlights.
Convert images into Black and White only if it enhances the picture.
Crop images to improve the composition.
We design the templates and the album layouts from scratch for each wedding. It makes the wedding album unique. Also, the client plays a major role here. They get to choose, order and make suggestions about the album.


Q. Whose work has influenced you the most?
A. The photographer I follow is not a wedding photographer! He is 'The Sartorialist,' an ex-fashion designer who does street photography. It's amazing how he finds the light! He is known to be one of the most influential photographers in the fashion industry.
Q. Is there something you wished you knew when you started photography?
A. Yes! There is one thing which I came across very late. It is the podcast series of the photographer Brooks Jenson called Lenswork. Each of them is just three minutes long and it leaves you thinking at the end. I wish I'd started listening to his podcasts before.
---
Our Favorite CuspConcepts Shot -Tina and Family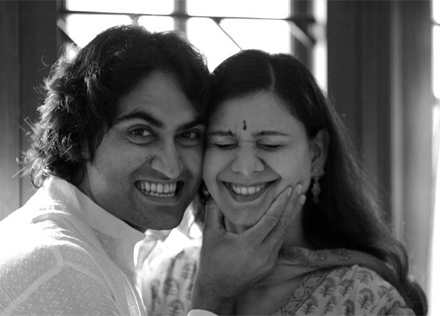 Update: Phalgun featured this interview in his site CuspConcepts with warm comments about the process. Find his post here.