Rohith Ravi is a Cochin based candid style wedding photographer. His wedding albums unfold as the events in a fairy tale. We are in talks with this young photographer to understand his techniques.
---
Q. Every wedding these days, you see a pair of videographer and a traditional photographer from the groom and bride side. And then comes you to this mix. How do you overcome the challenge of working with them?
A. I have my own team to handle traditional photo/video and candid Video. But when it's another team, I'll introduce myself to them and then keep myself involved in my work, not bothering about them. Whenever our paths cross, I wait till their job is done, and make sure I get my shot too.
Q. How do you try to keep your work apart from other photographers on the market?
A. No matter whatever you learn and however you evolve, the basic perspective and style someone has within, will not change. Each photographer has his own style and you just need to make that perfect. It's when you try to be like others that you blur the line and start being one among many.


Q. What kind of gear do you use?
A.
Camera: Canon 6D, Canon 60D
Lens: Canon 50mm f/1.4, 85mm f/1.8, 24-70 f/2.8 and 200mm f/2.8
Tripod: No
Flash: Canon 430EX II Speedlite
Flash Triggers: Yongnuo 622
Strobes: No
Filters: No
Camera Bag: Lowepro pro runner 350AW
Q. What's your favourite lens during a wedding?
A. A whole wedding can be shot just using the 24-70mm f/2.8. But I love it when I couple my 50mm on a full frame.
Q. What lens would you recommend for someone starting in wedding photography?
A. Canon 24-105mm f/4 is the best buy considering the focal range, image quality and price.


Q. Any gadget that you wish you shouldn't have bought?
A. My laptop which was meant to help me with edit on the go but didn't meet the expectations. Edit on a laptop is still tough if you are looking at high precision edits.
Q. Editing in laptop – why is it bad?
A. Once we get used to big screen edit, no normal laptop screen will be enough. tcStill, Macbook Pro is the best solution for good display and power.
Q. Printing pictures is an intricate business. Mostly I get sad when the pics come out not as good as I have imagined them to be. How do you prepare pictures for printing?
A. Solution is to calibrate the whole workflow. I get my all my personal/professional prints done from Canvera. So my screen was calibrated by Canvera team.
The print surface is also important. I love the prints on Canvera pearl surface.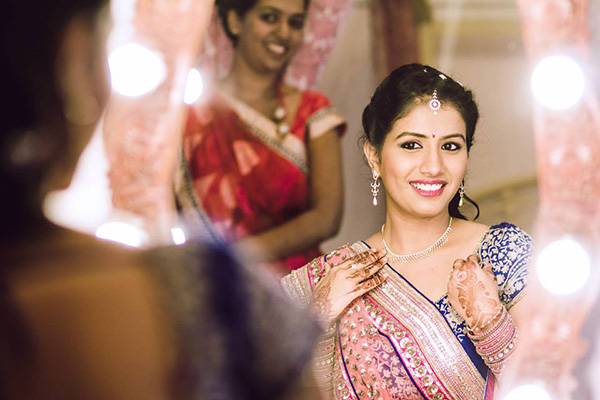 Q. What all do you carry while on an assignment?
A. I'll have two cameras on my shoulder and rarely do I leave my camera bag. My bag contains everything from extra lens, batteries, flash, memory cards etc. to snickers, lip balm, you name it.
Q. How do you prepare yourself for a wedding session besides getting your equipment together?
A. I have a mandatory shots list. I ask the couple for the events schedule, timing etc. Proper planning with a lot of creativity and nonstop energy can give you good pics. Great pics are born when all these are coupled with a couple who live their best day to the fullest.
Q. What all constitute the mandatory shot list?
A.
Jewelry
Bridal make up
Groom getting ready and accessories
Groom and Bride portraits,

including Bridesmaids and groomsmen

Close family candid portraits

(Parents, siblings, cousins, close friends and other important relatives)
Stage and Venue Decor

Official couple portrait

Fun shot with friends
Family group shots
Q. In the field, what is your
A.
ISO : Auto with max limit
Choice of focus – Autofocus mostly
White Balance – Auto
Image Format – RAW
Metering Mode – Evaluative mostly
Camera Mode – Manual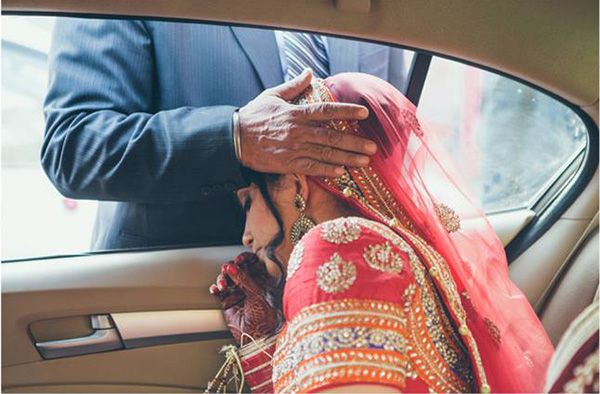 Q. What is your most favorite part of a wedding? Don't tell me it's the food!
A. Vidaai. You see some real moments in it.
Q. And the worst?
A. When people get around the couple. I always prefer a fair deal where people can remain seated and see the functions, while I make sure that I do not block their view. But this happens very rarely.
Q. Explain your post-processing workflow.
A. I rank pics into 3,4 and 5 stars. 3 star and above are those to be edited. 4 and above for album edits and 5 star will go online. Edit is done in Lightroom first and fine tuning is done in Photoshop. Album design in done in Photoshop, but I am planning to move to Indesign.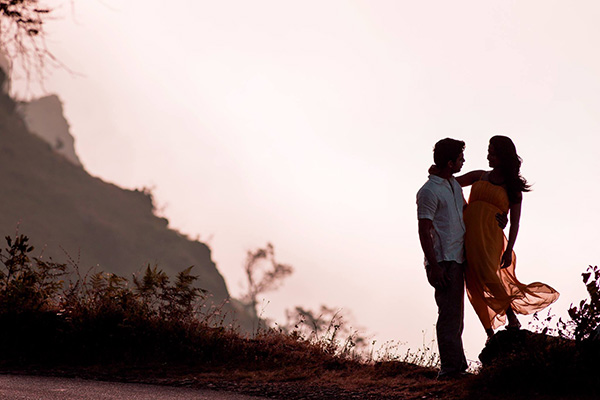 Q. Whose work has influenced you the most?
A. Phalgun P from Cuspconcepts is my mentor and inspiration. Other artists include Amar Ramesh, Anbu Jawahar, Ryan Brenizer, Hoffer Team, Jeff Ascough and the Chrisman team.
Q. Is there something you wished you knew when you started wedding photography?
A. I wish I was a better businessman – not that I've become one.
---
Our Favorite Rohith Shot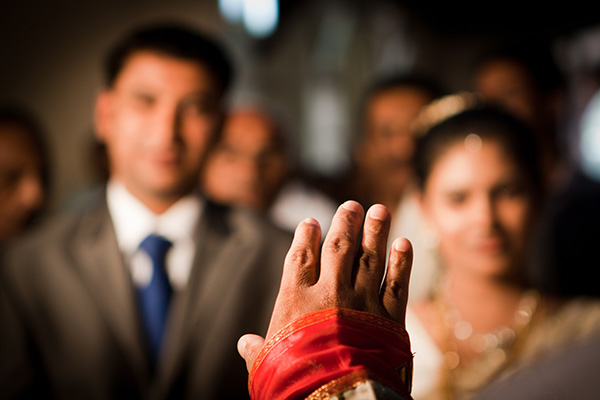 To create this unique angle, he snuck behind the pastor!