The new edition of Science and Technology Run or SnT Run is happening in IISc Bangalore campus on 6th March, 2011. This story is about the design of SnT Run logo that was introduced since last year.


You all may have seen the pictograms of Olympic events. I am told that the pictograms of Munich 1972 Olympics are the most popular, even today. When I sat down to design the SnT Run logo, I did a small research on these simple, yet powerful pictograms.
The idea
A running person is the central theme in all marathon logos. I also decided to go as per this custom and include one in the logo. My attention was mainly on the font so that the whole experience will be unique. I decided to include a reference of the shape of a racing track in a stadium.

Execution of the Idea

The SnT Run logo is constructed using parallel lines of uniform width. A constant radius is maintained for the curves. The 'n' and 'u' of "SnT Run" are aligned in such a way that an abstraction of a racing track in a stadium is visible. The running man is also created by applying the same rules.

A 3D version of the logo is also created that can be used in print media for publicity.
The Result
Stage Backdrop for SnT Run 2010;
In the foreground you can see AnasKA / antzFx, Urvesh, Ashveen, Tojo and Praveen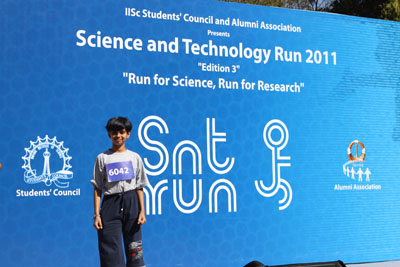 Stage Backdrop for SnT Run 2011; A proud winner on stage.
Photo Courtesy: Mahesh C
This blog post explains the design of SnT Run 2010 Poster.
Design Date: 07-Feb-2010