On the occasion of the Indian Independence Day (15-Aug), here is a desktop wallpaper calendar for you to download.


Last year, we designed a greeting card to mark the occasion.It's really important to us that important days are marked in the correct way. Designing a card or wallpaper is the perfect way to show your feelings about something and really gives you a chance to express your feelings.

The raw materials
The base image for the design is an illustration 'Diagonal Color Stripes' by Miamiamia. I used the 'Image -> Adjustments -> Replace Color' command in Photoshop to convert the yellow stripe in the original image to a white colored, 'brushed' stripe.

Original image is on the left. The other one is the modified image that alludes to the tricolor.
The quote "Freedom lies in being bold" is attributed to Robert Frost, the famous American poet (1874-1963). The slogan 'Jai Ho!' needs no introduction.
Download this Desktop Wallpaper Calendar
Click here to download this 'Jai Ho!' wallpaper with calendar (August and September 2009), 1280 X 800 pixels (JPG, 410KB)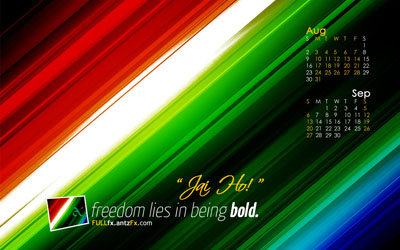 Click here to download this 'Jai Ho!' wallpaper (no calendar), 1280 X 800 pixels (JPG, 378KB)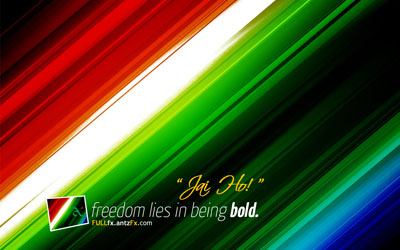 Software: Photoshop
Design Date: 10-Aug-2009