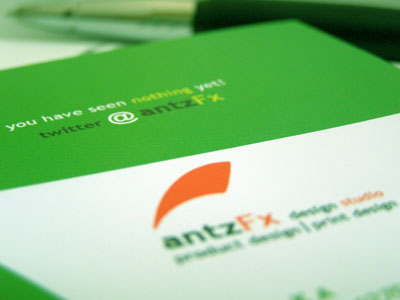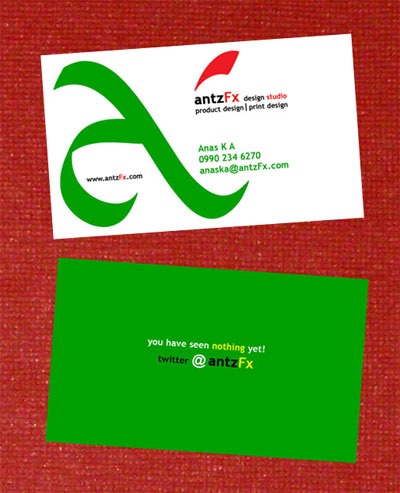 Recently we redesigned our business card to include the new logo of antzFx.com.

In this article, we are sharing a few specifications for a business card design. Also, you can download a blank template with layer guides.
Our Design

It is a minimum clutter design with a stress on the logo. The reverse side of the card features the tagline 'you have seen nothing yet!' and our twitter ID. Here is a comparison between the existing design and the new design.

The existing design resembled our website, complete with the upper and lower shadows.

Design Specifications

File format: PSD
Color Mode: CMYK
Resolution: 300 pixels/inch
Canvas size (Full Bleed Size): 95mm x 56mm.

Remember that the background colors and background images should extend to the full canvas size.

Card Trim Size after cutting: 89mm x 51mm
Design Area: 85mm x 47mm.

All the text should be placed within this design area.
When the file is released to print, don't forget to rasterize all text layers and flatten the image.

Download a blank PSD template for business card (ZIP, 384 KB).
Software: Photoshop
Design Date: 29-Jul-2009