The last redesign of our antzFx business card was more than two years ago. So we decided to do a v3.0 redesign. This is the story of our design and you can download a free business card design template in PSD format too.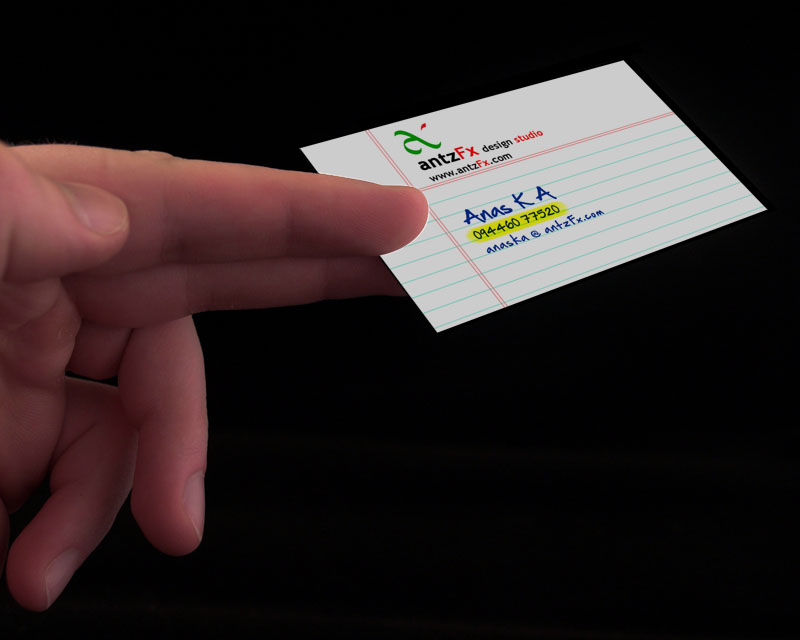 Click on the image for a closer view.
Blank 'Business Card' stock image by: Brian Lary, Madison, US
A page from my notebook
I don't remember from where I got the inspiration for using a notebook page background, but I have successfully used it twice thrice in the past. First, for my brother, I designed prize certificates with 'notebook' background for "Melange 2006," organized by University College of Engineering, Thodupuzha. Then a notebook page served as the background for my e-mail wedding invitation card. People liked this unique look.
For a final assignment/presentation of a Post Graduate Degree subject, I again used this background for the PowerPoint slides. Initially we (two of my friends and I) wanted to project the slides in 'portrait' format; but reverted to the traditional 'landscape' format a few minutes before our turn as its readability was better.
When we projected the slides, our Professor was surprised and she blurted out a "What is this?" Fortunately the GE Healthcare team, who were evaluating our assignment along with the Professor, liked it and we got an 'A' grade. In the clutter of plain vanilla and PowerPoint default templates, our presentation did manage good 'brand recall.'
Because of these experiences, I wanted to use a notebook page background for our new business card.
The design
The logo, company name and URL follow the antzFx logo and typography standards. They are placed on the top of the page. The person's name (14 pt font size), Mobile phone number (8 pt ) and E-mail ID (8 pt) are in a font called 'Hand of Sean.' The font color is a blue (#003399) that we usually find in gel ballpoint pens. The mobile phone number is given a yellow (#ffff30) fluorescent highlighter effect. A single 'space' is given at both the sides of '@' for easy readability of the E-mail ID.
The reverse side of the business card has a green (#009f00) background. All the text is in 'Trebuchet MS' font, except the 'Arial' '@' sign of Twitter handle.
Download a blank PSD template for this business card (ZIP, 64 KB).
Who printed this?
Many asked this question to me. I printed 96 business cards for Rs.185/- (This includes printing charges, cutting charges and VAT for double sided prints on four 300gsm A3 sheets, matte finish) from Print Xpress, Richmond Road, Bangalore. Their customer service is the worst among competitors, but they are also the cheapest in Bangalore.
Reactions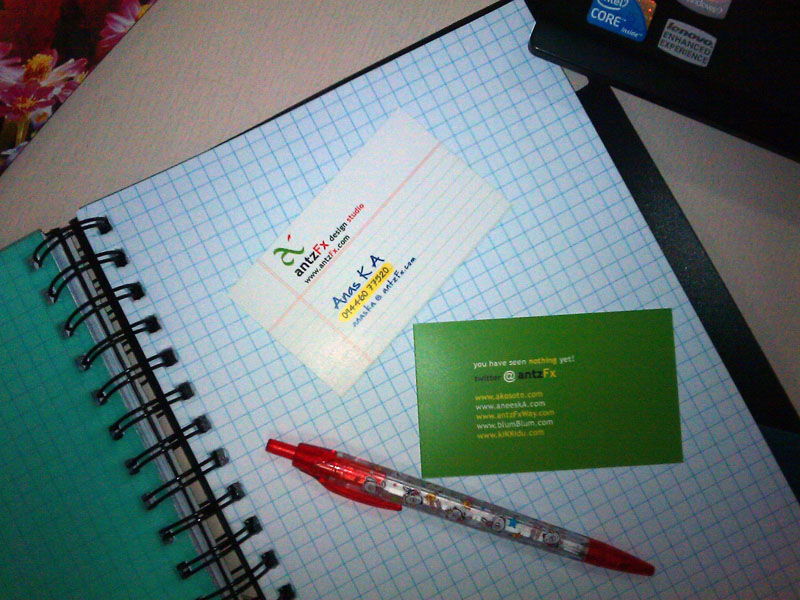 Click on the image for a closer view.
The few 'lucky' people who received my new business card generally favored the design and mentioned that the card is quite memorable. Well, what do you think?
Design Date: 03-Sep-2011