The year 2008
This is the time to stop, ponder and observe where a person stands in this journey called life. We, at antzFx DESIGNpuli, are fortunate to execute a few designs, a few people liked some of them and a few recognition and criticism came our way. We will be recording all our adventures in 2009 too in this space.
Dear reader, we wish you a happy and prosperous New Year 2009! May all your dreams come true…
When a stranger calls…
"Hello, we need to design a poster. Will you help us?"
"Oh… Sure. When is the deadline?"
"Today afternoon. Don't worry, it is very simple. I have thought about the whole thing. You just place the logo below a photo and give a nice caption. That's all. It will hardly take 10 minutes for an 'expert' like you in Photoshop. What do you say?"
"…"
Typically, this is how a work comes to me. 90% of the time I reject that work. First, I need to think and invent an idea. Second, that needs time. Third, if you have already decided what to do, then why come to me?
But the person who contacted for the Poster design work surprised me with this.
"I have committed a deadline. But don't worry, take your time. Three days, you say? OK, no problem. Please do whatever you want to make sure that the poster will be a popular one."
Since then, Deepak Malani has become one of my close friends.
Indian Institute of Science (IISc), Bangalore is celebrating its Centenary Year. In connection with this, IISc Alumni Association organized a Science & Technology Run on 7th December 2008 inside the campus. I just landed on the job to design a promotional poster for the event. This will appear in newspapers and the posters will be sent to different institutions in Bangalore, I am told.
Run IISc, run…
In the given time, I submitted four designs. Two of them were selected.
Yes, the graphic alone can project the message of 'Science and Technology Run' very clearly. Because of its 'too-obvious' nature, I didn't want to send this to the concerned people. But the heading was perfect – 'Science & technology runs in Bangalore.' After much thought, I pressed the 'send' button. The graphic is created by Rodolfo Clix.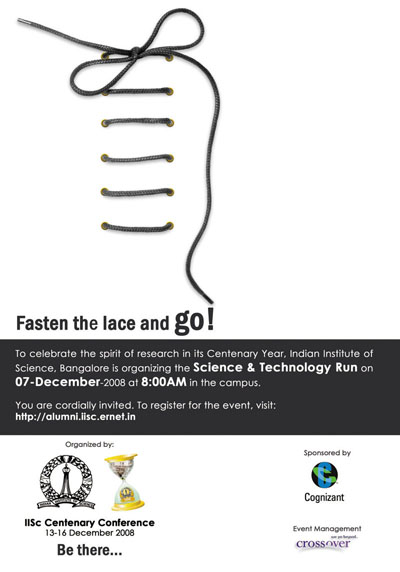 This design was very simple and became very popular. The basic idea came from the word 'race,' then 'seat belt,' then 'fasten the seat belt' and finally arriving at 'fasten the lace and go' since we are dealing with a run rather than a car race. Later this poster was converted into banners and a wonderful stage backdrop by the event management people. The simple lace and the white background were the USPs. This graphic is created by Zsuzsanna Kilián.
'Be there' was the tagline I gave in all the posters. If the tagline was a white text placed on a dark band, the effect would have been more compared to the present design.
Not so lucky
This design was not selected for the campaign because of reasons unknown to me. I was trying to add a down to earth feeling to the poster. A playing child in a village setting led to the very famous 'Catch me if you can…' I understand that Sören Rudolph took this photo in Kenya.
This design also was not so lucky like the 'Strings.' A pair of used running shoes is lying on the floor. The photo was looking natural. 'Make them run…' was thus born. These Puma Mostros belong to Simon Cataudo.
The Event
Almost 1500 people participated in IISc Science and Technology Run on 07-Dec-2008 and it was a great success.
You can see some photos of this event at:
IISc Centenary Gallery
Write-ups on the event are available at:
Croakers' diaries!
IISc Life
Acknowledgements
Following are the people whose work I used in the designs.
'Running technology (Gump)' by Rodolfo Clix, Sao Paulo, Brazil
'Strings' by Zsuzsanna Kilián, Budapest, Hungary
'Running Child' by Sören Rudolph, Wernigerode, Sachsen-Anhalt, Germany
'Running shoes' by Simon Cataudo,  Newcastle upon Tyne, Tyne & Wear, Great Britain
Software: Adobe Photoshop CS3
Design date: 23-Nov-2008