I know.
I know that it is too late to design a 2009 Calendar. I am looking at the 2008 tabletop calendar that is faded a little bit and has a lot of scribbling – my reminders of various tasks. I was thinking "Well, so far nobody has given me a 2009 calendar. Can I make one myself?" The result: I designed one yesterday and it appears to be nice. So I thought of sharing it with you.
I started the design as a tabletop calendar. Two sheets can be printed on a single A4 sheet. I can make a tabletop calendar with six such sheets and some cellophane tape. Or, I can stick it on to the wall or partition of your cubicle in my workplace.  Later I manipulated the pixel ratio such that anyone can use these images as their computer desktop wallpaper. At the moment only 1920X1200 pixel ratio (widescreen) is available for download.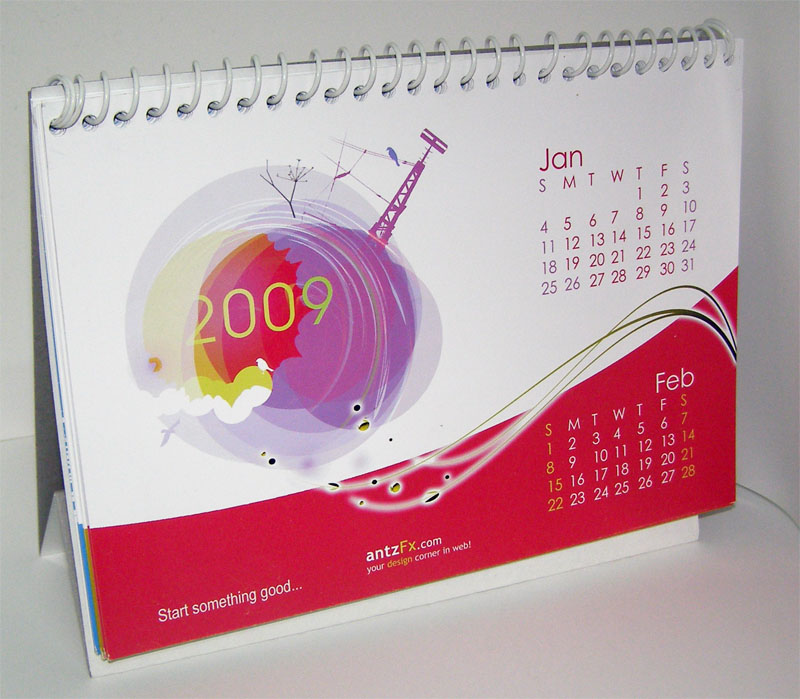 Let us see what went behind the design. I will try to answer your immediate and obvious questions.

Why a calendar?
When I used to work in a technology company (Now I am a student of Product Design), I had a tabletop calendar gifted by a friend. Everyday, before I switch ON my computer, I always spare a minute to look at the calendar and try to remember the deadlines for the day or coming days. The thought will go on about the coming holidays. The graphic and images on that calendar was interesting and I am sure that most of you will love to start your day with a good image and thought. So, here is a calendar with nice graphics and taglines.
How did you fix the layout?
All of us use computers for personal and professional work. My desktop is always messy and I never tamper with the position of taskbar. All the icons or files tend to be on the left side of the screen. So, the calendar wallpaper should not have any numerals on that 'forbidden' area. Also, there should be ample space at the bottom to accommodate the taskbar. At the moment, I have not tested the wallpapers in a Linux machine, but I hope that a taskbar at the top may not be hindering the calendar. A graphic can cover the rest of the space with a nice tagline.


1.    Main graphic. Overall colour scheme of a sheet is determined by the dominant tone of this graphic.
2.    Current month's calendar. The font used is Century Gothic. For easy 'deciphering,' Saturdays and Sundays are given in a contrasting colour than the weekdays.
3.    A flowing curve adds to the beauty of the sheet. In all the sheets, I have tried my best to maintain a continuity between this curve and the main graphic. An 'outer glow' effect makes the curve attractive (100% opacity of white, 15% spread, 30 pixels size – if you understand Photoshop).
4.    The 'ground.' We design school students refer it as 'ground' after learning 'figure-ground theory.' The ground displays the dominant colour of that sheet.
5.    I have tried to add an inspiring tagline in all sheets. Well, we can argue on this point…
6.    This is where the promotional matter comes into picture…
7.    The coming month's calendar. Its presence is justified by the fact that people always plan things in advance. These plans can spill over to a date in the next month. So, no need for turning pages in and out while planning a project or a holiday break.
8.    Credits of the photos used in the sheet.
The graphics are very interesting. You designed them?
No. Even a single photo taken by me could not find its way to the final version. All the images used in the design are taken by a bunch of very creative people across the world whom I 'discovered' with the help of Stock.XCHNG. See the Acknowledgements section for the names and links.
All the photos have ample white space around them so that they are easy to be edited in Photoshop. I have tried to select photos that can be linked to the tagline of the page.
Download the whole Calendar (ZIP, 2.28MB) »
Acknowledgements
All the sheets feature the image 'The curve (Halm)' by Martin from Duesseldorf, NRW, Germany
January 2009 Download (JPG, 1920X1200, 290KB) »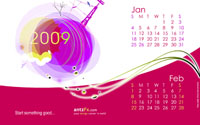 2009 Graphic — Shlomit Wolf from Jerusalem, Israel
February 2009 Download (JPG, 1920X1200, 237KB) »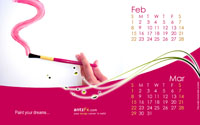 Painting (Inspiration) — Fernando Mello from Ribeirão Preto, SP, Brazil
March 2009 Download (JPG, 1920X1200, 231KB) »


'Quake in tie' — Sundeip Arora from India
April 2009 Download (JPG, 1920X1200, 238KB) »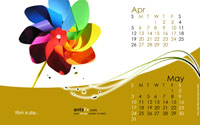 Pinwheel — Michal Zacharzewski from Warsaw, Mazowieckie, Poland
May 2009 Download (JPG, 1920X1200, 258KB) »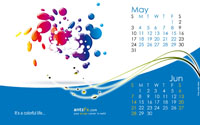 Bubbly and The curve (Halm) – Martin from Duesseldorf, NRW, Germany
June 2009 Download (JPG, 1920X1200, 220KB) »


Blue fire — Manu M from Bangalore, Karnataka, India
July 2009 Download (JPG, 1920X1200, 231KB) »


Leaf/dew drop — Dorota Kaszczyszyn from Legnica, Poland
August 2009 Download (JPG, 1920X1200, 231KB) »


Leader — Sanja Gjenero from Zagreb, Croatia
September 2009 Download (JPG, 1920X1200, 212KB) »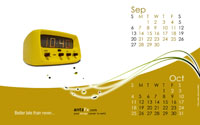 Clock – Sarah from Germany
October 2009 Download (JPG, 1920X1200, 269KB) »


Daisy flower — Adem KAYA from Istanbul, Turkey
Ferns – Sophie from Montreal, Quebec, Canada
November 2009 Download (JPG, 1920X1200, 223KB) »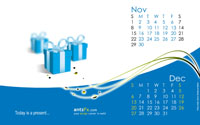 Gift (Festival invitation) — Sachin Ghodke from Mumbai, Maharashtra, India
December 2009 Download (JPG, 1920X1200, 335KB) »


Christmas snow — Lynne Lancaster from United Kingdom
Update



This 2009 Calendar featured under the title 'Global Village' in Smashing Magazine. Thank you Smashing!
Dear Reader, Thank you very much for your time and I wish you a happy and prosperous New Year!
Software: Adobe Photoshop CS3
Design date: 23-Dec-2008