Praveen P Mohandas is an architect by profession and a nature photographer by passion. His creations are characterized by unique perspectives of nature and wild life. Praveen, a Malayali, has been doing photography for the past 12 years and holds a diploma in still photography. In this interview, we try to discover what drives the man.
---
Q. How and when did your fascination for wildlife photography start?
A. I did not start photography as a wildlife photographer. During my school days I was doing a lot of painting and drawing. Later, the fascination towards camera started and slowly I slipped into photography. In the beginning, I was doing other kinds of photography – like travel, landscape and architecture. At some point during my days in Bangalore the interest turned towards wildlife and since then I am doing only wildlife and architecture.
Q. You have a diploma in still photography. How has that helped you with wild life photography?
A. It helped me to build a good base in film photography. The course helped me learn the basics of camera and its operation using large and medium format equipment along with black and white developing and printing.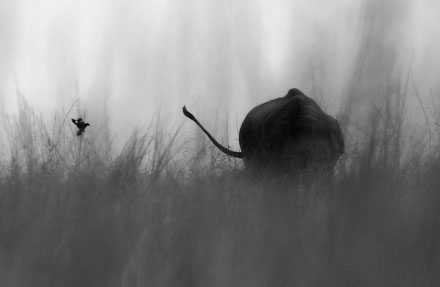 Q. Creating art in wildlife photography is difficult. But you seem to be able to do just that with relative ease. What are the challenges in wildlife photography apart from the patient indefinite wait to capture a moment?
A. I am not sure if I'm creating art in its true sense.
I'm wandering in Indian jungles making visuals enjoying every moment that I spend in the wilderness , making images which I feel will make me happy.
I feel that the challenge to the photographer is forcing himself to think out of the box. I feel a lot of them try to repeat the successful images which are already made. To come out of that mindset itself is a challenge.
Q. What is the major difference between your present style of work and your starting days?
A. During my initial days of photography I was doing lot of experiments. I used to try various things to get that single shot which I wanted. Most of the time, I used very crude techniques to shoot. This was because I owned an old camera with one lens which had only shutter and aperture working properly!
Today with every expensive and high end equipment, I hardly need to push the limits to get "that shot". In wildlife photography I was never interested in merely recording the species even from my earlier days.
I am always in search of a pictorial look to the wildlife images with composition.
Today I'm searching something in the images that takes the image beyond the visuals; something that can trigger thoughts in the mind of the viewer.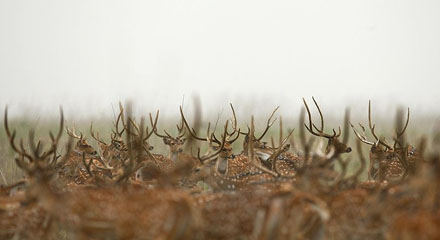 Q. What kind of gear do you use?
A.
Camera Body – Canon EOS-1D Mark III, Canon EOS-5D Mark II
Lens – 17mm to 600mm canon L lenses, tele-converters and tilt shift lenses.
Filters –Singray (polariser, ND) filters
Tripod – Gitzo 5540
Flash – I relay mainly on sun light
Bag –Lowepro bags
Others – Pocket Wizard triggers, Sekonic light meter.
Q. Which is your favorite lens?
A. Canon 70-200 f4 IS and Canon 24 f3.5 TSE Lens. Both lenses have amazing image quality. I love 70-200mm lens for its weight.
Q. Among the gadgets that you own, is there anything that you regret buying?
A. Nothing. All equipment were bought after extensive research and careful thought. I use all my equipment frequently. None of them sit idle in my bag for long.


Q. In the field, what are your settings?
A.
ISO – 95% of the time less than 1600 ISO
Aperture – depends on subject
Shutter Speed – depends on subject movement
Shooting Mode – Manual / Aperture Priority / Shutter Priority : I use all these.
White Balance –Auto
Image format – RAW
Q. When you go for a shoot, what all do you carry?
A. I carry everything I own. From my experience I have learnt the lesson the hard way. Whenever I have left some gear at home, I have found myself needing that equipment the most for the shoot.
I hardly prepare for shoots. I always carry fully charged batteries and enough memory cards.


Q. How do you approach your subjects?
A. In national parks, I use gypsy. Also silent vehicles double as excellent hides. I never approach the subject in a hurry. First I study the movement pattern and approach them slowly anticipating its next move.
The key is to keep low and be silent.
Q. How do you post process your shots?
A. I convert raw files to TIFF in Canon's DPP, correcting white balance, shadow details, noise etc. Finer levels and curve adjustments are done in in Adobe Photoshop. For print or web publish, sharpening is also performed.


Q. How do you educate yourself to take better shots?
A. I spent lot of time seeing images – not only wildlife, all other types of photography.
Q. Whose work has influenced you?
A. Wildlife photographer –Vincent Munier, Architecture photographers – Hardev Singh and Fernado Guerra. Artist friends – Lijo Jos and Nilanjan Das.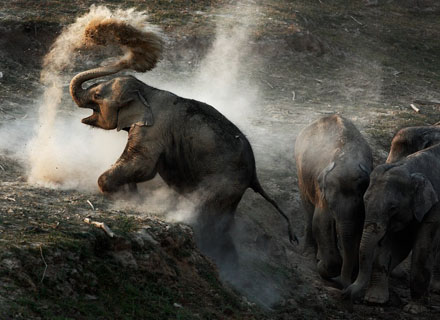 Q. Among your clicks, which is your favorite?
A. I am yet to make that image.
Q. What is the one thing that you wish you knew when you started photographing wildlife?
A.
Equipment does not matter. It's the person behind it that matters more.
Wildlife photography doesn't bring money, it just makes you spend more and more. In spite of this I don't regret taking up nature photography for the joy it provides.
---
Our favorite Praveen Shot