What prompts the birth of a travel photographer? For Himanshu Khagta, it is the mountains of Shimla (Himachal Pradesh, India).
Himanshu Khagta
Bio | Site | Facebook| Twitter | Contact
Special Mention:Contributor in Femina, The International Herald Tribune and The New York Times
Technique: Travel (Professional)
The sheer richness of colors in Himanshu's clicks attracted me. All of the images showcase the true, incredible India. Today we are in conversation with Himanshu Khagta to understand his passion and style of photography.

---
Q. What fascinated you to shoulder the camera bag?
A. I was born in Rohru and brought up in Shimla. My early memories about the place is vague, but I do remember me — a four year old — breaking an expensive SLR of my uncle!
The interest in photography started when I was in the 11th grade. I used to walk back home from school everyday through a forest road. The landscape changes everyday and I was keen in capturing those beautiful landscapes. I bought a small pocket camera and used to carry it everyday to school.
Q. What kind of gear do you use?
A. I use Canon EOS 5d Mark II with Canon 17-40L f/4, 70-200L f/2.8 IS and 50mm f/1.4 lenses.
My most favorite lens is the Canon 50mm f/1.4.
I just love its sharpness and its ability to shoot in very low light conditions.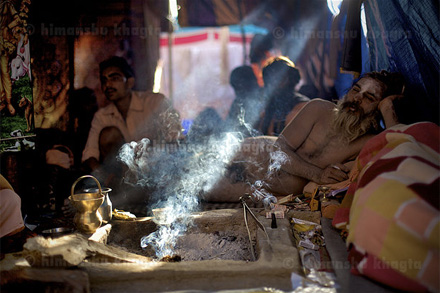 Q. When you go for your travels, what all do you take with you?
A. I take my camera bag with one body and a few lenses . I don't like to carry too much weight while I'm traveling. I carry my cell phone to record videos and audio clip. I always carry a book for reading!
When you travel alone, a book can be a great companion.
When I'm shooting, I just carry around my camera attached with a lens. I don't want people to notice me. They become conscious about the camera's presence and the photo moment may get destroyed. I want the viewer to be a part of the moment that I am capturing. This is possible only when the subject is natural in his behavior.
Q. Which mode is your camera on most of the time?
A. I use Manual and Aperture Priority the most; sometimes I also use Shutter Priority. It all depends on the light. If it is tricky, choose Manual Mode. If you have to freeze the moment, choose either Manual or Shutter Priority. If you want control over the Depth of Field, choose Manual or Aperture Priority. It all depends on the kind of light available and what you are trying to achieve in the final image.
Q. What is the biggest challenge of being a Travel Photographer in India?
A. The travel photography market is not that wide; but if you deliver quality photographs then it won't be a problem. Since we are all 'global' these days, internet has made it easy to sell your images in the Indian and international markets. But maintaining the quality of your work is very important.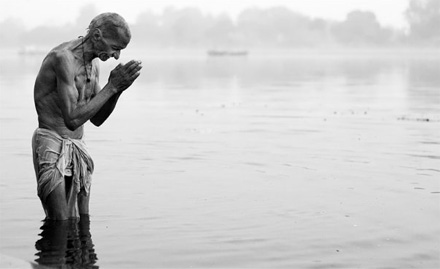 Q. Being a travel photographer, what do you like the most?
A. I like traveling and meeting new people. I am more of a traveler than a photographer. I like exploring new places; especially the Himalayas.
I have been to many unexplored places in the mountains. Sometimes I have been in places where I forget to use my camera! Because getting back alive is more important than clicking pictures. The adventure involved in traveling is addicting.
Q. How would you describe your photographic vision?
A. I try to capture the reality. The moments. I capture what I see with my own eyes.
Q. What is your approach towards post-processing?
A. Post-Processing is a part of photography. I shoot in RAW and I believe it is like the film negative in traditional cameras. You have to turn it into a photograph with the help of post processing.
With post processing, I bring the image closer to the reality.
The image should be what I saw with my eyes when I was there in that moment.
Post-Processing also depends on the situation. Sometimes I don't do any; sometimes I have to bring out the details using a software.
A camera may not see what we can. One has to be careful not to overdo the processing. I use Apple Aperture for most of my images. Sometimes I use Adobe Photoshop to bring further details in shots of tricky lighting conditions.
Q. Is there one favorite shot among your collection?



A. I like my 'Himalayan People' and 'Himalayan Landscapes' Gallery. I love mountains and I like every photo with mountains or mountain people in it.
Q. Whose work has influenced you the most?
A. I believe my work has been influenced by many photojournalists of the Associated Press, AFP (Agence France-Presse) and Reuters. One of them is Emilio Morenatti. I admire the risk and dedication he puts in each of his photographs.


Q. In my experience, to bring the majestic beauty of a mountain or a landscape, it is better to do an HDR. But in your works, I haven't seen any. Why is it so?
A. You are right. HDR is a great way to bring out the details in photographs. Earlier it used to be done with chemicals; now it is being done with software. I do use this technique only to bring the images closer to the reality.
When people think of HDR, it is the 'pseudo effect' that comes in to their mind. Many photographers are misusing this technology. What is the point in bringing out that the majestic beauty that we may never see using our own eyes?
Q. According to you, what defines a travel photographer?
A. You need to be observant of your surroundings and you should try to capture the essence of the place you are photographing. Their isn't any special quality that is required, but you should be prepared to travel a lot.
Your photos should make people crave for visiting that location.
Q. Is there something you wish you knew when you started photography?
A. I wish I knew about DSLRs when I bought my first camera.
---
Our favorite Himanshu shot – Modern Day Loneliness