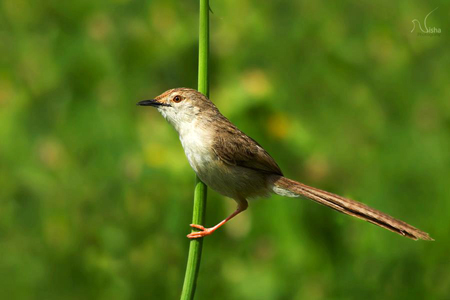 Nisha Purushothaman, a fine art major, who likes to sketch, started photographing birds about two years ago. In this interview, she talks about her inspiration, style and passion towards photography.
---
Q. How did your fascination for birds start?
A. I always loved nature and photography. Two years back, I happened to get introduced to the group Shutter Bugs Creative Forum, lead by Mr. Mohammed Arfan Asif, a Dubai based Indian photographer.We would go for photography on every weekend early mornings. This gave me a chance to brush up my photography. Since Arfan was strict in attending the morning sessions, I used to to get up from my bed at 4 AM and go out to capture the beautiful moments around.
These regular morning sessions were a turning point for me to get more close to nature. We used to go to nearby lakes and farm houses where I had a chance to watch birds more closely.


Q. What are the qualities required in photographing birds?
A. Dedication, regular practice and a lot of patience is required for bird photography. One should have a true feel for nature which will help to capture the right moment. Also having a proper equipment is instrumental in getting good shots.
Q. Since birds are agile, the photographer is left with little room to experiment with the frame. What aspect of bird photography excites you?
A. I think framing is the toughest part to capture birds in action. Often it is very difficult to predict and so it is the main challenge and the exciting part. To get "the" right moment requires good study on the bird behavior. That means good groundwork, research, lot of patience, strict and frequent practice.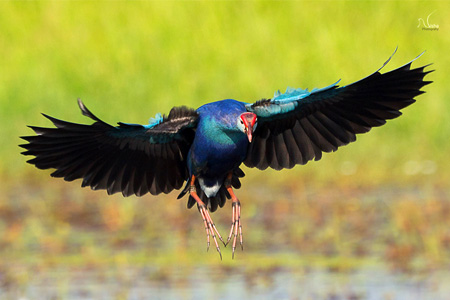 Q. What kind of gear do you use?
A.
Camera Body – Canon 60 D
Lens – Canon 100 – 400mm
Filters – Hoya HMC UV filter
Tripod – VANGUARD Alta+ 233 AP
Bag – Lowerpro CompuDaypack


Q. Which is your favourite lens? Why?
A. The Canon 100 – 400mm lens. Compared to prime lenses this one is more affordable. Also it gives the flexibility to move to a range between 100 to 400. My dream lens is the 800 mm prime lens. It is very expensive and so it is still a dream 🙂
Q. In the field, what are your settings
A.
ISO – depends on light, but usually at 320
Aperture – Again depends on light. If the light is good, then f /8 is the preferred aperture.
Shutter Speed – 800 or more for flight shots
Shooting Mode – Always Manual
Q. When you go for a shoot, what all do you take with you?
A. My backpack will have all my gear, a bottle of water, some fruits, a hat and a pair of gumboots. And, some food for birds.
I do a detail study about the location and the possible species of birds inhabiting there, charge my camera batteries, format the memory card, reset the camera setting and make sure that the petrol tank of my car is full. Also I try to get my friends who are interested in photography to accompany me.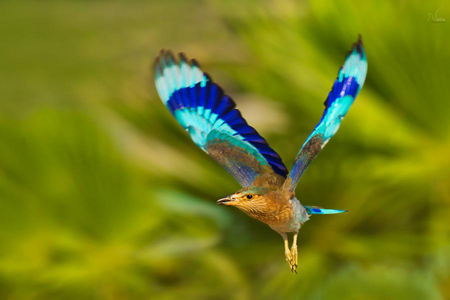 Q. How do you approach your subjects?
A. If you are inside a vehicle or using a hide, you can get a chance go very close to the birds. Most of my shoots will be from the car. When you became familiar with the bird and its habitat, you can come out of the vehicle and try to get close to take some eye level/ground level shots. If the light is good, I set my camera to 250 ISO, f/8 and shutter speed as 800 or more.
I always try to get a catchlight in the birds eye, which gives more life to the photograph.
Q. How do you post process your shots?
A. Because I am more into nature photography, the post processing done is minimal. I use Photoshop for the basic editing and processing.
Q. How do you educate yourself to take better shots?
A. I refer a wide variety of works by good photographers. Internet is the main source — National Geography, 500px, 1x.com, Facebook are the main references. I chat with many well known photographers and try to learn from them.


Q. Whose work has influenced you?
A.
It will be very difficult to choose the photographer who has influenced me because from everyone's photo I learn something. To start with, my main inspiration and guidance after Arfan is Hermis Haridas, who is my friend and often my photography companion. If I need to pick some names in nature photography, Paul Bannick, Tom Sanders, Kalyan Varma, Maggy Meyyer, Tim Kuhn, Nate Chappel, Brenda Martin, Walter Soestbergen, Bob Hawkins, Ted Wu, Gyorgy Szimuly, Ron McCombe, Clement Francis … The list goes on.
Q. Among your clicks, which is your favourite?
A. It is difficult to pick one, as there are positives and negatives in all shots. These two shots are a bit tough to take.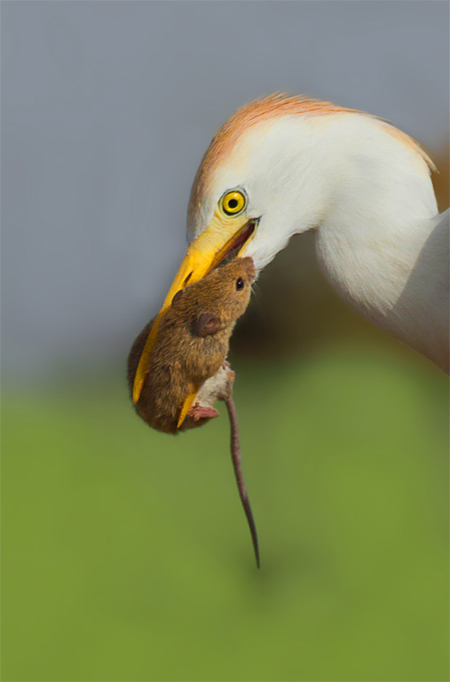 It is usual to see Egrets with fish/frog as prey. But Egret with a rat is very rare.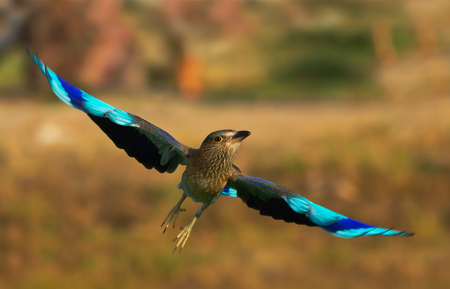 This is an Indian Roller. It is a beautiful bird and I love its colors. Capturing a bird's flight towards you is very tough as Indian Roller is very shy.
Q. What is the one thing that you wish you knew when you started photographing birds?
A. The key camera settings to get a sharp bird flight shot! I have cried a lot after seeing many such shots that are not sharp. I have done many attempts to nail down a reasonably good bird flying shot.
---
Our Favorite Nisha Shot