It is indeed true they say that "Necessity is the mother of invention". When the opportunity came knocking, I took it for a ride!
Backdrop
I was looking for a way to download all the pictures that I have published at clickography. Since the Export option of wordpress didn't allow the users to export contents of media library, I took to googling searching for a plugin that will do the job. When I couldn't find it, I went ahead and wrote one.
downall – Download Media Library : A wordpress plugin
To download and install the plugin, please follow the instructions listed below.
1. Download and install the plugin from here. (version 0.3)

2. Unzip and upload the folder "downml" to the "plugins" folder of your wordpress installation. Since now the plugin is hosted in wordpress.org, you can search for "Download Media Library Plugin" in the "Add New" page of Plugins section to install it.
Click on "Add New" link under Plugins menu in the dashboard.
Enter "Download Media Library Plugin" in the box and press "Search Plugins"
Click the "Install Now" link to install the plugin
3. Activate the plugin from your wordpress' administration page.


4. A "downML" link will be created on the side bar.



5. Click the link "downML" to create and download the contents of Media Library as a zip file.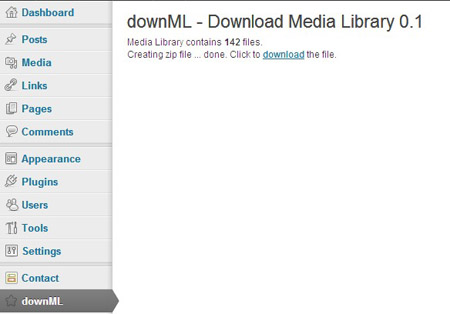 Video Tutorial