A surprise on 21-Apr-2010
I was reading the newspaper 'Malayala Manorama' and trying to have an afternoon nap. On the 'Opportunities' page, I saw the following advertisement.
The logo looked very familiar. Then I realised – it is my own design! I designed this logo as a part of a competition organised by TechnoPark Trivandrum, some 18 months ago. Since then I have never heard from the authorities about the contest results or the fact that that my logo is being used by them for about a year.
This post is about the experience of designing a logo for CyberPark Kozhikode. CyberPark is a Government of Kerala organization planned in the lines of Technopark at Thiruvananthapuram and Infopark in Kochi to build, operate and manage ITparks for the promotion and development of investment in IT and ITES industries in Malabar region of Kerala.
13-Nov-2008
Many of my friends who are working at TechnoPark, Trivandrum informed me that a logo competition is announced for CyberPark Kozhikode.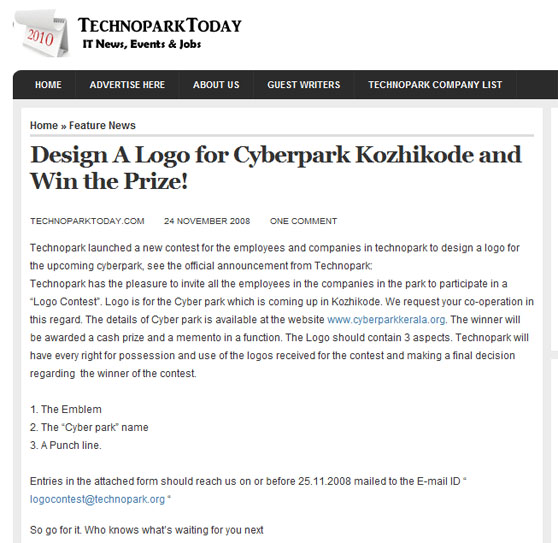 26-Nov-2008
I designed the following two logos.
I prepared a PDF document explaining the background, thought processes and my contact details. I sent this document to the officer who was in charge of this competition. He acknowledged the receipt of my designs.
Then I heard nothing about it and I forgot about the design – until yesterday when I saw the advertisement.
My logo is already in use
Yesterday I did a Google search and came to know that by June 2009, my first logo was selected from the entries as the official logo of CyberPark Kozhikode. The only modification that was done to it is replacing the tagline 'work is play' with 'creating opportunities.' This logo started appearing in many websites. Below are some screenshots and links.
Page of CyberPark Kozhikode on the official website of Kerala IT
Home page of Kerala IT: CyberPark logo appears in the footer
Blog entry on 'Blooming Calicut' dated 25-Jun-2009
Discussion thread on SkyscraperCity Forum dated 26-Oct-2009
Blog entry on the official website of Kerala IT dated 23-Jan-2010
My attempts to get the due credit
I am happy that my logo is used by a prestigious institution of the Government of Kerala. I am sad because none of the officials contacted me about the selection. I am angry because a lot of strangers are using this logo for about a year and I didn't get the promised reward.
I contacted the officer to whom I sent the entry. He didn't have the old e-mails between us regarding this design. So I forwarded the old e-mails to him and he acknowledged that the logo is indeed my creation. But now, he is not in charge of CyberPark Kozhikode. He told me that he has alerted the proper authorities about this incident and hoped that I will get the credit for this design.
I have also e-mailed the officers in charge of CyberPark Kozhikode. I am awaiting a reply. I will update this post as soon as I have any news.
Update 1 on 22-Apr-2010
The CEO of CyberPark Kozhikode informed me that he will do an investigation and settle this matter as soon as possible.
Update 2 on 29-Apr-2010
The CEO of CyberPark Kozhikode informed me that "we are working on a plan to recognize your success in the competition."
Update 3 on 17-May-2010

I am very happy to inform that CyberPark officials recognized me as the 'Designer of CyberPark Logo.'
I was invited for the foundation stone laying ceremony of CyberPark Kozhikode on 17-May-2010. A memento was presented to me by Mr. Bhaskaran, Mayor of Kozhikode. A cash prize was given to me by Adv. P M A Salam, Member of Legislative Assembly from Kozhikode.
The CyberPark foundation stone laying ceremony was attended by Mr. V. S. Achuthanandan (Chief Minister of Kerala), Mr. Mullappally Ramachandran (The Union Minister of State for Home Affairs), Mr. Elamaram Kareem (Minister for Industries, Kerala), Mr. Binoy Viswam (Minister for Forest and Housing, Kerala) and other dignitaries.
See photos of CyberPark Kozhikode Foundation Stone Laying Ceremony (17-May-2010) here…