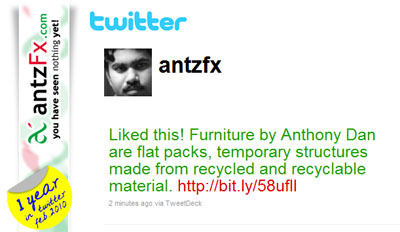 Whenever I find a relevant and interesting design related links, I tweet them so that I can refer to them later. Recently when I had to look for a particular tweet that I'm sure I did, I spent some time in doing a search in Twitter. I didn't get any satisfactory results, so I went to my Twitter page and pressed the 'more' button many times and finally I fished out the link.
To make matters easy, I am going to archive my tweets at the end of every month in this blog. I will be grouping them under headings for easy retrieval.
Following are my tweets @antzFx in March, 2010.
Advertising
Today we are going to see some of the coolest and newest car ads of the world. http://bit.ly/9oRVPk Compiled by @ConceptDzain
Designer
March 2007: Jacob Melvin is worried about graduating. Today he is a technical director for DreamWorks Animation. How? http://bit.ly/c8Ouqq
Logo/Identity Design
A Steve Jobs presentation has all the elements of a great movie. Read "Steve Jobs' Presentation Secrets" at http://bit.ly/3YQzt6
One of the great ways to add an impressive style to a #logo is to use Negative Space. See these 30 great Logo Designs. http://bit.ly/bnqAOs
Print Design
Product Design
Industrial design student Andrew Kim's (@designfabulous) Coke bottle redesign is beautiful and a smart use of space. http://bit.ly/bQum2h
Liked this! Furniture by Anthony Dan are flat packs, temporary structures made from recycled and recyclable material. http://bit.ly/58uflI
Resources
"The secret to creativity is knowing how to hide your sources." But I'm revealing: https://designpuli.com/2010/03/21/secret-to-creativity/
Web Design
Children and you will like it! Bembo's Zoo http://www.bemboszoo.com/Bembo.swf #Typography
Xtra minimalism! Just saw http://www.NowDoThis.com/ Read more about the useful application here: http://nowdothis.tumblr.com/
Hilarious! 'How a web design goes straight to hell' http://bit.ly/4HMme7 Created by @oatmeal