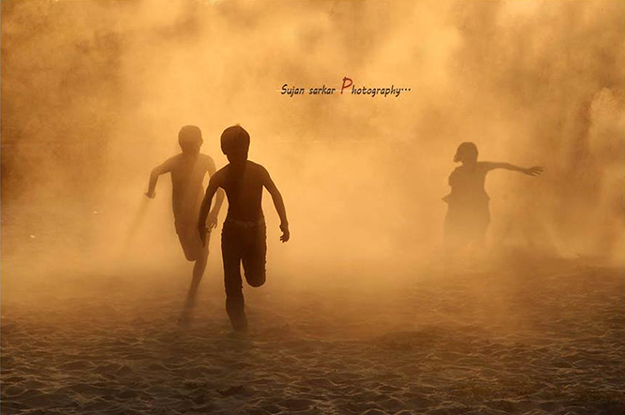 Sujan, a school teacher, is the most decorated photographer we had the privilege to feature in this blog. He is fascinated by the energy of human soul, environmental issues, daily life, landscape and social issues. He is on a constant pursuit to improve his photography with every click.
---
Q. How did you get into photography?
A. Photography has always been my passion. But I started to explore this field more deeply from nearly 2009. I started interacting with people and to capture the various aspects related to them. I received my first FIAP Silver award in 2010 and the second in 2011.Till now I have achieved more than 40 awards in national and international salons and competitions.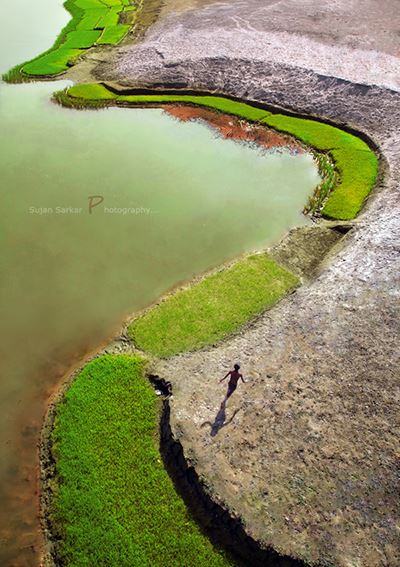 The confidence level of my photography grew more when I became the Grand prize winner of "India is" photography competition in 2012, Asian Photography contest 2013, Nat Geo Moment award 2013, Sony WPO 2014, DJ Memorial 2013 and Smart Photography (Picture of the month April 2014).
Q. What kind of gear do you use?
Body : CANON 5D MARK II , NIKON J1
Lens : CANON 24-105 mm , 50mm f/1.8, NIKON 10-30 mm
Flash : DIGITEK
Tripod : MANFROTTO
Camera Bag :LOWEPRO
Filters : MARUMI POLARIZER FILTER
Q. When you go for your travels, what all do you take with you?
A. I mostly like to explore the unexplored part of my local area since I am born here and grown up with this custom, I want to tell the world the unknown parts of it through my works. When I go for my travels , the three things that I carry along with my camera are a notebook, a pen and chocolates (It helps to create a special bonding with people,especially children).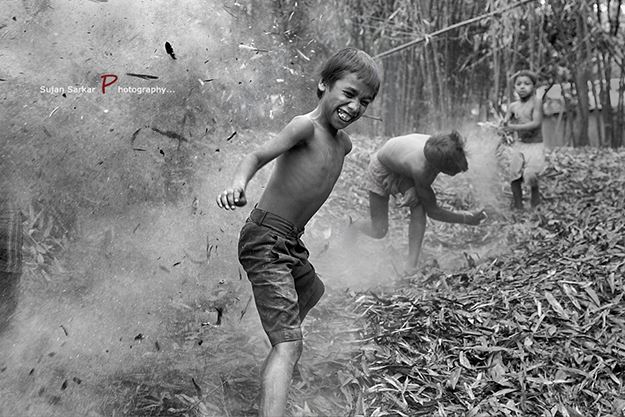 Q. During your travels, what settings is your camera on?
Mode – manual/aperture priority.
File – RAW
White Balance – Kelvin
ISO – 200 to 800
Choice of Focus – Manual/ Single Focus point
Q. The biggest challenge for a travel photographer, from my viewpoint, is that catch-worthy-moments gets over in a split second. I am curious to know how you prepare yourself and your camera to such situations.
A. I keep my camera in Aperture priority mode with single Auto focus.
I always keep my camera ON.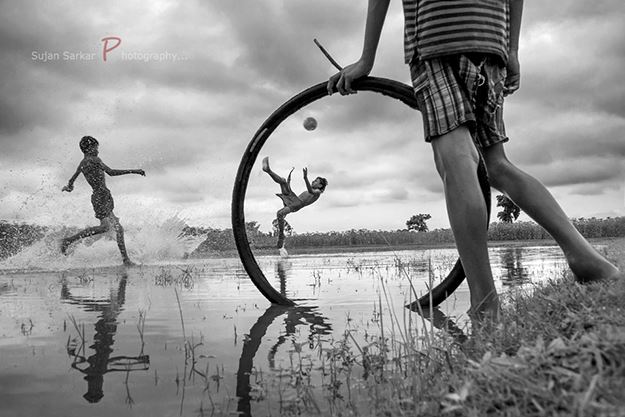 Q. Being a travel photographer, what do you like the most?
A. Being a travel photographer means that we get to know new places, new customs, new traditions , new languages and new people. Photography is a good means to capture as much as we can and bring back the memory with us .So it always results in an awesome feeling and experience for me.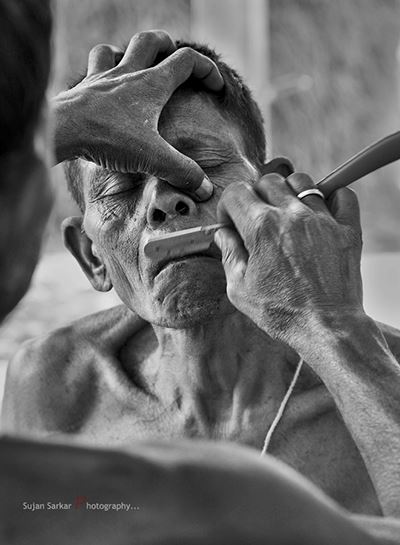 Q. How do you post process your shots?
A. I always like to click my pictures in Raw mode and post process them in Photoshop. According to me, proper editing is very important to enhance the beauty and meaning of a photograph.
Q. Can you please talk about how you came to take this picture?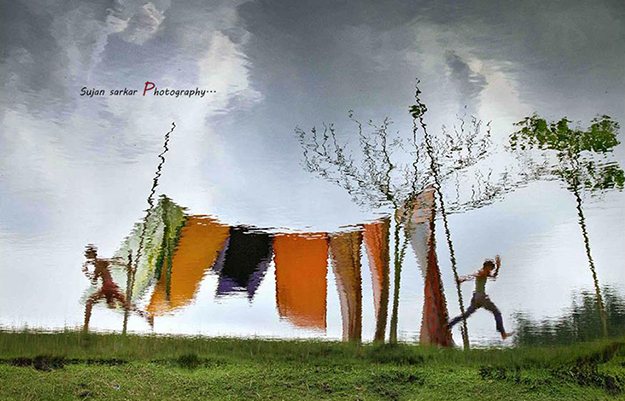 A. On that day, after the school got over, I took my camera and went out. As I was walking by a pond, I saw some boys playing there. So I started taking some clicks.Then my eyes went to the reflection in the pond's water and it looked beautiful.So, without wasting any time, I composed and took this picture.
Q. Is there one favourite shot among your collection?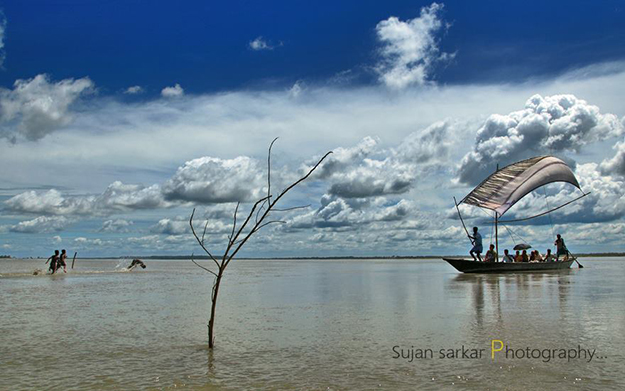 A. This is one of my favourite shots. It represents the daily life of journey on Tista. People living on the river bank use boats for communication, children enjoy swimming in the Tista water and the river enhances the beauty of nature.


A huge number of people depend on the water of Teesta river for cultivation, fishing, irrigation, transportation etc. Boat is the only means of transportation for the people living on the riverbank to carry people, goods and even animals across Teesta . This photograph was taken at Mekhliganj in West Bengal,India.
Q. Whose work has influenced you the most?
A. If anyone's work has influenced me the most, that is none other than Steve McCurry. I have learnt something from his each and every work. His compositions, his thoughts, his style has always kept me spellbound and has been a great inspiration to me.
Q. Can you please talk about how you came to take this picture?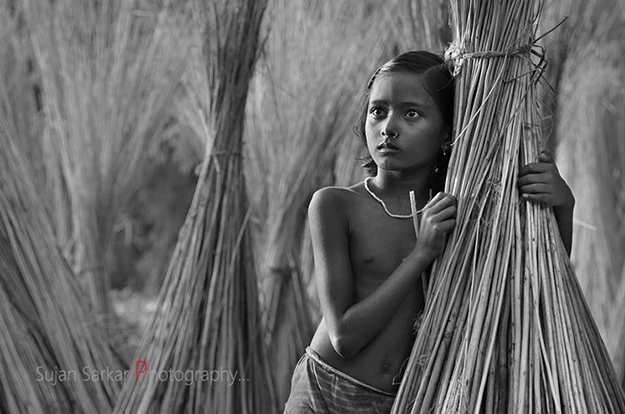 A. I saw this girl in a rural village of Cooch Behar where I had gone to capture the local people and environment. Suddenly I got this moment when this girl was standing in her own world of thoughts.
Q. According to you, what defines a travel photographer?
A. Each and every place we visit has its own particular look, character and ambiance. A good travel photographer is one who can capture all of these qualities through his camera and convey as much about a place through his photographs.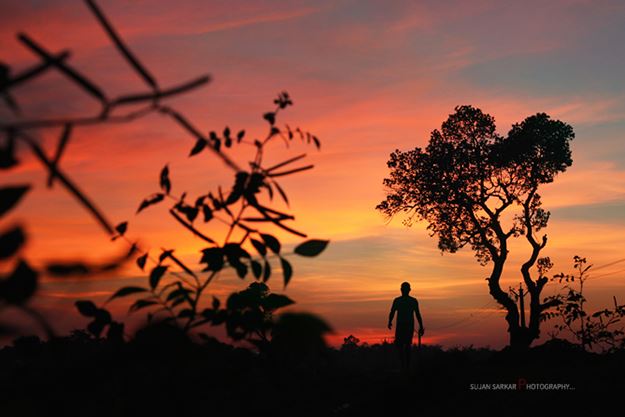 Q. Is there something you wish you knew when you started photography?
A. Yes, I wish I knew Art and Painting.
---
Our Favorite Sujan Shot