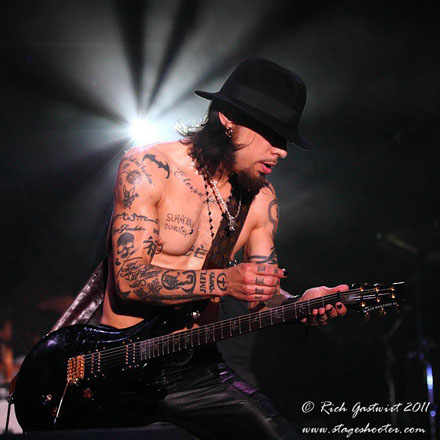 Only recently did I come to realize that concert photography is an art form in itself. So, as a part of my research, I typed in the name "Concert Photography" into Facebook search. There I found Rich smiling at me! In this post, Rich, who likes to call himself a Photomusicologist, describes in detail his method and style towards concert photography.
Rich Gastwirt


Site | Twitter

Special Mention:
2010 Billboard Magazine Ultimate Music Moment Fans' Favorite
2009 Billboard Magazine Ultimate Music Moment Fans' Favorite
Technique: Concert (Professional)
---
Q. What influenced you to get into concert photography?
A. About 5 years ago, I was given an all-access laminate for a Bob Weir and Ratdog concert and I happened to have a DSLR in my car. So I brought it in and thought I'd try my hand at concert photography. It was a new camera to me and I had always shot it in 'Auto' mode with decent results. So I figured that I'd have good luck at the concert. I had a great time but the results were horrible.
That's when I decided that I needed to learn how to do better. I researched online forums, checked out works of other photographers (and the EXIF information when available) and practiced like a mad man until the exposure triangle was of second nature to me.
I love the challenge of trying to make iconic images, given the difficult constraints of unpredictable and often poor lighting, limited time and fast motion.
Q. What kind of gear do you use?
A.
Body : Canon 5D Mk II (x2)
Lens : Canon 16-35mm f2.8, 24-70mm f2.8, 70-200mm f2.8 IS Mk II, 35mm f1.4, 85mm f1.2, 15mm f2.8 fisheye.
Flash : Canon 580EX II (I don't use it for concert shooting.)
Others : Spider Holster, Camdapter Prostrap, Luma Loop sling, a Crumpler bag, a ThinkTank beltpack, a Pelican travel case and custom Etymotic Research earplugs.


Q. Which is your favorite lens? Why?
A. It's the 85mm f1.2 lens. I don't use it too often but it's a lot of fun and the image quality is remarkable. My other favorite is the 70-200mm f2.8 IS Mk II which I use in any venue larger than a small club. I had the original version and liked it a lot, but the optics on the Mk II version seem every bit as sharp as a prime lens, or at least as sharp as my camera's 21MP sensor can resolve and the versatility of a zoom is important to me as I often can't zoom with my feet.
Q. Among the many equipments that you own, is there anything that you wish you didn't buy?
A. One item that didn't meet my needs at all was a backpack-style bag. Sometimes photo pits are pretty tight so it's bad form to wear a backpack while shooting a concert. This particular one was the type you have to take off to access. It made no sense for my use and quickly found a new home.
Q. When you go for shooting a concert, what all gear do you carry with you?
A. It depends on the venue. For a lot of the smaller clubs in town, I'll bring two bodies – one with a 16-35 zoom and one with the 85mm f/1.2 or 35mm f/1.4. For the majority of shows at a venue larger than 500 people, I'll have the 70-200mm zoom lens on one body and the 24-70mm on the other with the 16-35mm in a pouch on my belt and possibly the 35 1.4 in my bag, if I use a bag.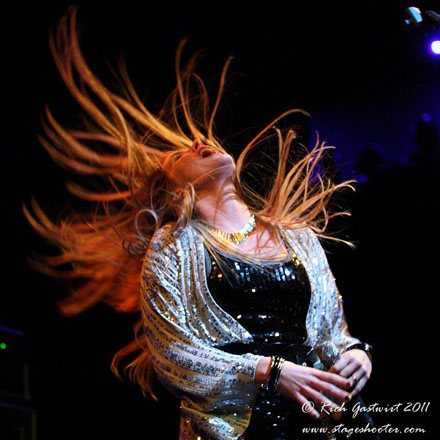 If it isn't raining, I'll typically skip a bag and wear the camera with the wide zoom on a Luma Loop sling strap and the camera with the long zoom in a Spider Holster on my belt. I have two regular gigs in which I bring in all of my gear. One is a small club that saves me a table directly in front of the band, so it's easy to fill a shoulder bag with everything. I could easily cover those shows just with one or two lenses, but I use the shows there to practice techniques, such as focusing at f1.2 at the minimum focal distance, which can leave the eyes in focus but the ears and nose soft.
I'm also the house photographer for the Boston Museum of Fine Arts summer concert series. For those shows, I bring all of my gear in a hard rolling pelican case. When I shoot a festival as media, I typically bring just my 3 zooms. When I'm hired as a house photographer and can shoot without restriction, I bring the primes along as well.
Q. While shooting a concert, what is your…
(a)ISO?
A. I change my ISO constantly. I typically start at 1600 and adjust accordingly depending on the lighting. I probably change my shutter speed and aperture several times a minute and my ISO every few minutes, but of course it all depends on how consistent the lighting is. At some clubs I'll shoot at 6400. Typically I'm at 2000-2500.
(b)Choice of focus – Auto / Manual ?
A. I'm somewhere in between. I typically use the center focus point or I'll use the joystick and select one of the outer ones. My center focus point is the only cross-type one so it's most sensitive. Knowing how your camera's auto-focus works is critical. Mine locks in on high contrast horizontal subjects, so when I'm shooting a drummer's face amid shiny symbols, I focus manually as the auto-focus locks onto the cymbals.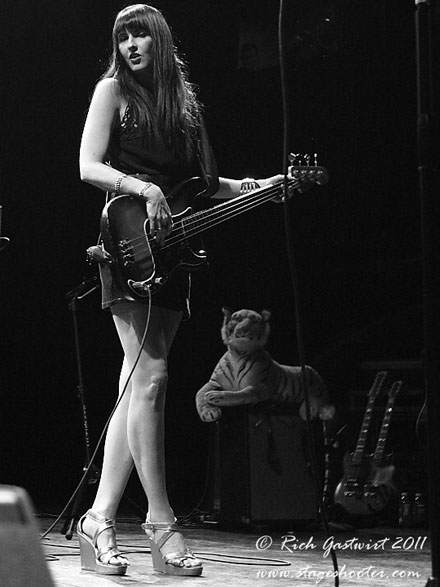 (c)White balance?
A. I shoot in raw mode so I can change the white balance later. But I've found that my metering is most accurate when I'm set to Average WB or Tungsten.
(d)Aperture?
A. I typically shoot wide open at f2.8 or just slightly stopped down on my tight shots even when it isn't necessary for light gathering purposes. Having a thin depth of field with the artists' face in focus and the neck of the guitar slightly soft gives a three dimensionality.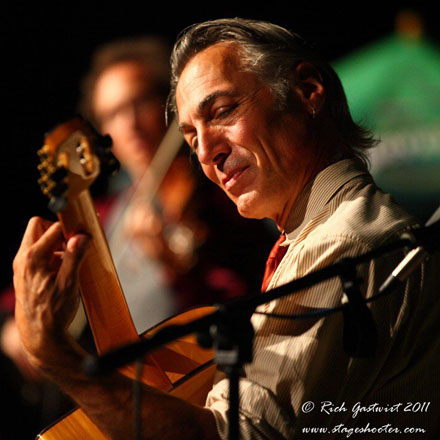 Q. Whose work has amazed you? Why?
A. As far as concert photography goes, Jim Marshall's work is tough to beat. Of current concert photographers, my favorite is Ryan Mastro. He does a great job of capturing the motion of the music.
Q. What's your favorite photo…
(a) that you've taken ?
A. There are a few that I'm extremely proud of. My favorite is probably one of James Hetfield of Metallica handing a pick to a fan.


(b)that someone else has taken?
A. One of my favorites, and until recently the only concert photo that has hung in my house, is The Champagne Toast by Jonas Grushkin, which can be seen here.
Q. Do you subscribe to any magazine or blogs for inspiration?
A. Not magazines or blogs per se, but I do check out other photographers' work on social networks regularly. Everyone has their own style and I like some more than others. The styles that interest me most are the ones that convey motion, illustrate the artist/fan connection or the 'behind the scenes' "fly on the wall" type shots.
Q. What is the one thing you can say to those starting out in concert photography?
A.
Don't ever agree to give up copyright to your work and don't work for nothing.
A lot of artists, such as Lady Gaga and Janet Jackson, require photographers to give up copyright to their work. Agreeing to these "rights grab" releases does nothing more than tell the artists that it's cool to continue ripping off photographers. When you're presented with a rights grab, don't just walk away either. It's important to let the publicist know why you can't sign it and start a negotiation.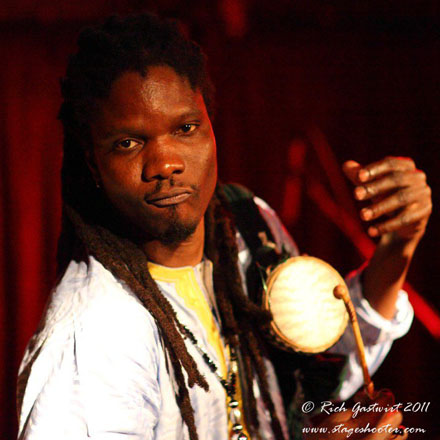 I shot a festival last weekend in which the media was required to not only transfer copyright, but to also transfer all files to the festival's servers before leaving the premises. I threatened to walk, which I had every intention of doing and they agreed to waive the release. Even when I'm hired by a festival, as is the case next weekend, I own copyright and negotiate usage rights. As far as working for nothing, when you value your work at zero others will as well and it's pretty tough to go up from there.
Q. Is there anything you wish you knew when you started photographing?
A. If I didn't learn by trial and error, the lessons probably wouldn't have stuck. So I'm not sure that if there's anything I wish I knew. But it took me a while to realize that the histogram was more important than my exposure needle and that cameras aren't very intelligent and their metering isn't suited to concert photography.
---
Our favorite Rich Shot